Greta Thinks Beck Should Move His 8/28 Rally, FNC Will Only Cover As "News Event"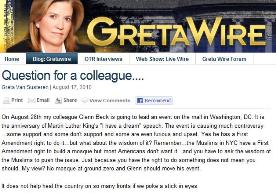 Well this could get really interesting – Greta Van Susteren writes today that she thinks her colleague Glenn Beck should move his 8/28 rally away from the steps of the Lincoln Memorial (comparing it to the Ground Zero Mosque debate).
Meanwhile Beck said on air that Fox News will not air it in full, and an FNC exec tells Mediaite why.
Greta wrote a post on her Gretawire blog today (h/t Media Matters):
Remember…the Muslims in NYC have a First Amendment right to build a mosque but most Americans don't want it…and you have to ask the wisdom of the Muslims to push the issue. Just because you have the right to do something does not mean you should. My view? No mosque at ground zero and Glenn should move his event.

It does not help heal the country on so many fronts if we poke a stick in eyes.
That sort of comparison is sure to irk Beck and his fans, and it led many commenters on Greta's blog to express their strong disagreement. Here's a sample from LadyTexan22: "Greta,Greta,Greta…. what in the world are you talking about???"
In response, Van Susteren added an update, writing, "I like Glenn Beck, he is not only a colleague of mine but he has been on our show many times. I was just raising a question and I know there are no easy answers."
Interestingly this comes on the heels of Beck announcing to his radio audience today that Fox News will not be airing his 8/28 rally in D.C. He says he was "alerted today" about the decision, and he speculates the reason may be because he wouldn't be able to cover it personally, but "I don't know why."
He did add: "They've been more than gracious all the way along, so they'll make their decisions, but you just know we will find a way to make it available to you online."
FNC's Executive Vice President of Programming for FOX News Bill Shine tells Mediaite, "FOX News has nothing to do with the rally – we will cover it as a news event alongside other news throughout that day."
With the two incidents occurring today, it appears Fox News as a whole and certain elements within Fox News are actively trying to distance themselves from the event. We'd imagine as 8/28 approaches there will be more to say about the relationship and the event as a whole.
—–
» Follow Steve Krakauer on Twitter
Have a tip we should know? tips@mediaite.com