Anderson Cooper Interviews Slain Officer Mark MacPhail's Mother About Troy Davis Case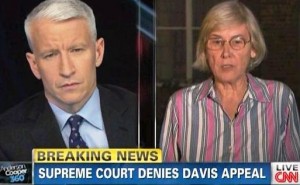 On Wednesday evening, mere moments after news broke that the Supreme Court had denied an appeal to stay the execution of death row inmate Troy Davis, CNN's Anderson Cooper interviewed the mother of Mark MacPhail — the slain police officer at the center of the Davis case.
It made for a poignant interview. Earlier in the evening, Anneliese MacPhail shared with Cooper that she is and has always been firmly convinced of Davis' guilt based on the evidence presented over the past twenty-two years, and that she just wants the entire ordeal to be "over with." She also shared that she has never planned to attend the execution itself, because doing so would not result in bringing her any sort of additional peace. Peace, for her, would come instead from knowing that justice, as she and her family sees it, has finally been served.
"Do you think it's possible, to have peace?" Cooper asked her.
"I sure hope so," she responded. "I'm working on it, I'll tell you that. Because we have been through Hell. He did this. Nobody made him do it; it was his choice. So. I lost my son, the father of my grandchildren, and I have been very hurt and very upset with all these things that have been going on for years. So I want it to come to an end."
She also pointed out that the recantation on the part of seven of the nine witnesses who testified against Davis came seventeen years after her son's shooting, and that this does nothing to shake her certainty regarding Davis' guilt. She admits to having felt anger and disgust over Davis and the murder he has been convicted of carrying out, but that "in a way," she understands his fight to avoid execution.
Later, she revealed that she speaks to a picture of her deceased son, and Cooper asked what sort of things she says to him. Her reply was heartbreaking:
I tell him, "Dear, let this be over soon so we both have some peace, and your family has some peace, too. They need it also. And we love you, we miss you. You will always be in our heart."
Have a look at the interview, via CNN:
Have a tip we should know? tips@mediaite.com