Andrew Brietbart To CNN: I Don't Trust Rep. Weiner's Lawyers To Exonerate Anyone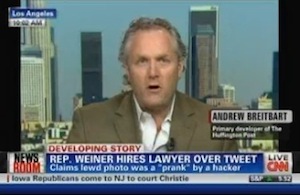 Andrew Breitbart appeared on CNN this afternoon to discuss the strange story that has come to be known as "Weinergate." For the uninitiated, a lewd image was sent to a young follower in Seattle via the Twitter feed of Rep. Anthony Weiner (D-NY). He claimed it was the result of a hack, and what has followed is a series of sloppy reports and outlandish speculation, surrounding a story with very few accepted facts. During this appearance, Breitbart also suggested that there may be more evidence of inappropriate online behavior between Weiner and several young women.
Host Randi Kaye asked how Breitbart found out about the story which allowed the aspiring Internet mogul/provocateur to aver publicly that he had no part in an alleged hoax surrounding the still fluid controversy. He did explain what he did know of Dan Wolfe, who is the single Twitter user (who goes by the handle @patriotusa76) who retweeted Weiner's tweet in questions. Breitbart claimed that he "didn't know him before" but that Wolfe "has been monitoring Rep. Weiner for quite some time."
Breitbart then made some news by stating the following: "according to Wolfe's theory, and I don't know him that well, he's been monitoring relationships that Congressman Weiner has been having with women, young women, that claim to have relationships with him." Breitbart then clarified by adding "I'm not saying what type of relationships, but people that Rep. Weiner follows are quite young, younger than the girl in question, talk openly about Rep. Weiner, who he follows."
So, in other words, there may very well be more to the story. Weiner was not present to clarify this, and so, there may not be more to the story.
Breitbart then reminded the CNN viewing audience that the way that his site originally reported the story, the name of the recipient of the alleged lewd Twitpic had been redacted by his editorial staff, before calling out Salon, Gawker and DailyKos for not following BigGovernment's own journalistic standards on how this story has been reported.
When asked by Kaye what he feels is the real story, Breitbart seemed to correctly sum things up for this very odd story by stating "At this point Weiner has created more questions for himself," adding "I want there to be a full scale investigation." When reminded that Weiner has retained counsel, Breitbart said "I don't trust Congressman Weiner's lawyers to exonerate" anyone accused of hacking.
Update: Just after Breitbart finished his interview, Kaye interviewed CNN Legal Analyst Jeffrey Toobin who said "What Andrew Breitbart was insinuating about [Weiner] with young girls and stuff is outrageous. And frankly, it's too bad that he got to say that stuff on CNN. " Watch that clip here.
Watch the clip below, courtesy of CNN:
Have a tip we should know? tips@mediaite.com
Colby Hall - Founding Editor