Ann Coulter Battles Stossel, Calls Libertarians 'Pussies,' And Gets Booed By Room Full Of Students
Coulter Battles Stossel, Calls Libertarians 'Pussies,' And Gets Booed By Students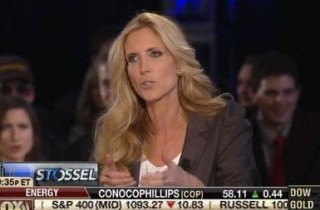 What do you get when you invite outspoken conservative firebrand Ann Coulter to debate outspoken libertarian John Stossel in front of an audience of 1,000+ libertarian students?
Fireworks, that's what.
On tonight's episode of Fox Business Network's Stossel, Coulter got into a heated debate with Stossel and the students over a variety of social issues, in the process calling libertarians "pussies" and receiving lots of jeering for her remarks.
Once a year, Stossel (full disclosure: my former boss) tapes a show at the International Students for Liberty Conference in Washington, D.C. He typically brings on friendly libertarian guests, like presidential candidate Gary Johnson, Reason magazine star Nick Gillespie, Cato Institute VP David Boaz, or up-and-coming Rep. Justin Amash (R-MI).
But just to show that the 1,400+ students are not beholden to either major political party, a liberal and a conservative will also join the show and mix things up. This year, Coulter was that conservative. And boy, did things get heated.
The initial conversation between Stossel and Coulter began as a light squabble over whether the War in Iraq was truly justified. The war was certainly worth the cost because Saddam Hussein was "definitely looking for uranium from Niger," she said. Her remarks were met with tepid boos and confusion, but the room was mostly pleasant at that point.
But when the subject turned the the legalizing drugs, things quickly became tense. "Libertarians and pot," Coulter said with a dismissive laugh.
"This is why people think libertarians are pussies," she said. Yes, it was bleeped. But I was there in person, so I know she said it. Her explanation:
"We're living in a country that is 70-percent socialist, the government takes 60 percent of your money. They are taking care of your health care, of your pensions. They're telling you who you can hire, what the regulations will be. And you want to suck up to your little liberal friends and say, 'Oh, but we want to legalize pot.' You know, if you're a little more manly you would tell them what your position on employment discrimination is. How about that? But it's always 'We want to legalize pot.'"
Stossel then asked: "Why can't gays get married?"
"Well, they can," Coulter replied. "They have to marry a member of the opposite sex." The room filled with boos.
"This is another one where you're just sucking up to liberals when there are big fights," Coulter again poked at libertarians.
"No, we believe the individual should be left alone," Stossel shot back.
"Marriage is the most important institution to civilize young people. I'd make divorce a lot more difficult," she said. "Liberals want to destroy the family," she continued, eliciting jeers and mocking laughter from the students.
"How is it any of your business what I choose to put in my body if I'm not affecting anyone else?" one student asked during the Q&A, prompting the crowd to give a standing ovation.
"First of all, for alleged individualists, you're very mob-like," Coulter snarked. "Second of all, it is my business because we are living in a welfare state … Right now, I have to pay for, it turns out, coming down the pike, your health care. I have to pay for your unemployment when you can't hold a job. I have to pay for your food, for your housing. Yeah, it's my business!"
Stossel and the student eventually got Coulter to concede that if the welfare state were rolled back, she'd maybe consider legalizing marijuana.
Later on, a recently-divorced student asked Coulter why she wants to "make divorce more difficult" when it is already an incredibly cumbersome and taxing process. The conservative author's response provoked more booing: "When you buy a refrigerator, to break a contract to return your refrigerator is more difficult in most states than to break a marriage contract."
One student, off-camera, shouted: "They're human beings!" The crowd applauded.
After the segment wrapped, Coulter smiled and the crowd gave respectful applause. Seeing as how Coulter is a well-known good sport about engaging hostile environments, it's no surprise she was game for the whole experience.
But on her "libertarians are pussies" point, since neither Stossel nor the students had the opportunity to fully respond, let me give it a brief whack: The economy may be more important than the the war on drugs or gay rights, but that's a subjective valuation. Either way, libertarians care so much about those social issues not only because the former is rife with injustice, wastefulness, and abuse, but because they serve as a litmus test of sorts, separating those who are serious about limited government from those who pick and choose when they want to be skeptical of government power.
If you truly care about personal responsibility, limited government, and freedom of choice, then you should oppose government involvement in your personal life as much as in your economic life.
Watch the segment below, via Fox Business Network:
>> Follow Andrew Kirell (@AndrewKirell) on Twitter
Have a tip we should know? tips@mediaite.com