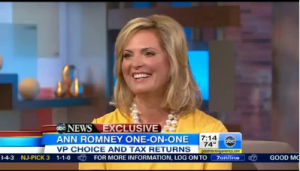 Good Morning America's Robin Roberts sat down with Ann Romney, discussing a variety of topics relating to the election and her family.
Mrs. Romney said her husband is edging closer to choosing a running mate, but that a final decision has yet to be made.
On the issue of her husband's tax returns, Mrs. Romney answered that he has not released more because voters would be better served by focusing instead on "where Mitt has led his life:"
He's a very generous person. We give ten percent of our income to our church every year. Do you think that is the kind of person that is trying to hide things or do things? No. He is so good about it. Then, when he was Governor of Massachusetts, didn't take a salary in the four years.
"Why not show that?" Roberts wondered.
Mrs. Romney said that doing so would merely provide more fodder for attacks, adding that "we have given all people need to know and understand about our financial situation and about how we live our life. And, so, the election, again, will not be decide on that. That will be decided on who is going to turn the economy around and how are jobs coming back to America."
Mrs. Romney also responded candidly to her thoughts on recent claims from the Obama camp that her husband is either a felon or a liar when it has come to being transparent about his time at Bain, as well as the President's public refusal to apologize for these. "I'm not disappointed, I'm not surprised," she said. "I believe it was beneath the dignity of the office of the president to do something as egregious of that. To attack someone on that level is, I think, beneath his dignity."
As for a recent attack poking fun at dressage — a sport she has used as therapy in her struggle against MS — Mrs. Romney said that, honestly, all she could do was laugh.
Watch, via ABC:
Have a tip we should know? tips@mediaite.com