AP Reporter Bluntly Asks Obama: 'Is This the Worst Year of Your Presidency?'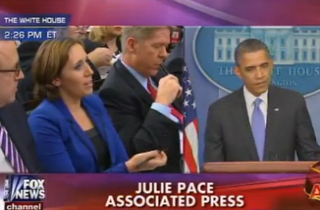 During Friday afternoon's White House press conference, Associated Press reporter Julie Pace began the Q&A with a rather blunt question for Pres. Obama: "Has his been the worst year of your presidency?"
"When you look back at this year, very little of what you outlined has been achieved," Pace told the president. "And your ratings from the public are near historic lows for you," she added before posing the aforementioned question.

"That is not how i think about it," he said. "If I look at this past year, there are situations where I wish Congress had moved more aggressively: Not passing background checks in the wake of Newtown is something that I continue to believe was a mistake."
Obama then listed off a few of what he believes are his administrative accomplishments in the past year, including a rollout of several manufacturing initiatives and a growth in oil and natural gas production.
Pace responded that she was asking not just about his legislative agenda, but also about his reliability with the American people. "When you talk to Americans they seem to have lost confidence and trust in you, your credibility has taken a hit," she said. "Do you understand the public has taken a different view of you?"
"My polls have gone up and down a lot," the president replied. "If I was interested in polling I wouldn't have run for president… I knew there would be ups and downs on it."
"As long as I have an opportunity, more kids are able to go to school and get the education that they need and more families are able to stabilize their finances and the housing market is continuing to improve and people feel like their wages are inching up a little bit," he concluded, "if those things are happening: I'll take it."
Watch below, via Fox:
— —
>> Follow Andrew Kirell (@AndrewKirell) on Twitter
Have a tip we should know? tips@mediaite.com