Atty Gen. Eric Holder Held In Contempt Of Congress, Democrats Walk Out Of Vote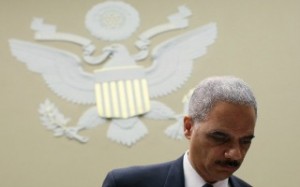 The House of Representatives — including 17 Democratic members — voted today to hold Attorney General Eric Holder in contempt of Congress for refusing to turn over subpoenaed documents related to Operation Fast and Furious, the botched gun-running project that's been under investigation by the House Oversight Committee (led by Rep. Darrell Issa). The vote was 255-67-1. In protest, many Democrats walked out of the House, including Minority Leader Nancy Pelosi and members of the Congressional Black Caucus.
This marks the first time in the history of Congress that a sitting U.S. attorney general has been found in contempt of Congress. Two Republicans — Reps. Steve LaTourette (OH) and Scott Rigell (VA) — voted against holding him in contempt.
The White House released the following statement: "Republicans pushed for political theater rather than legitimate Congressional oversight."
Republicans argued they have to hold him in contempt because of his refusal to hand over documents related to the Fast and Furious investigation. On the House floor on Thursday, Pelosi called the contempt proceedings "appalling" and "shameful." It's Holder today, she said, and somebody else the next.
You'll recall there was also a bit of a frenzy last week when President Barack Obama, per the Justice Department's request, invoked executive privilege, allowing the documents to be withheld. Issa called the move "untimely" at the time. In these proceedings, Issa has accused Holder of stonewalling the investigation.
The botched gun-running program is blamed for eventually resulting in shooting of a U.S. border agent, Brian Terry. Some details and background, via CNN:
Issa has accused the attorney general of stonewalling an investigation into Fast and Furious and how the Justice Department provided Congress with erroneous information about it. The department says it already has handed over more than 7,000 pages of records to House investigators, and that the remaining material Issa wants could jeopardize criminal prosecutions.

The Bureau of Alcohol, Tobacco, Firearms and Explosives launched Operation Fast and Furious out of Arizona to track weapon purchases by Mexican drug cartels. However, it lost track of more than 1,000 firearms that the agency had allowed straw buyers to carry across the border, and two of the lost weapons turned up at the scene of the killing of U.S. Border Patrol agent Brian Terry.
A similar incident occurred in 2008 when President George W. Bush's White House Counsel Harriet Miers and Chief of Staff Joshua Bolten were held in contempt of Congress — despite Bush's asserting executive privilege. A large number of Republicans walked out of that vote (video below), perceiving it as a partisan ordeal. Per CNN:
Miers and Bolten were accused of failing to cooperate in a congressional investigation into the mass firings of U.S. attorneys and allegations that the White House was using the Justice Department for political aims. Their citations marked the first time White House officials had been found in contempt of Congress.
Here's Democrats walking out of the vote today, via CNN:

Here's the 2008 vote, during which Republicans walked out:

Have a tip we should know? tips@mediaite.com