Barack-etology 2012: President Obama Picks UNC Tar Heels To Win March Madness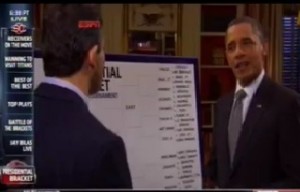 It's that time of year again, when people all over this great land suddenly become college basketball experts, our president unveils his NCAA Tournament picks, and brackets take their rightful place above parentheses in the punctuational hierarchy. I'm referring to March Madness, which also happens to coincide with the conservative media's March Madness Madness, whereupon they try to criticize President Obama for doing the one thing that their standard-bearer cannot: connecting with voters.
President Obama revealed his picks to ESPN's Andy Katz Wednesday morning, and after a two-year losing streak picking Kansas to win it all, the President went with the University of North Carolina Tar Heels, the number one seed in the tournament. The "Barack-etology" segment has become a popular annual ritual, but not with everyone.
Conservative media figures, spearheaded by the talent at Fox News, have unfailingly taken the occasion to slam the President for spending the seven or eight minutes it takes to reveal his picks (plus the twenty minutes or so that it probably takes to fill them out), but if they're smart (that's a mighty big "if"), they'll leave it alone this year, since their nominee for president is likely to be a guy who would give his left nut to connect with voters the way President Obama does on Barack-etology day.
There is a bright side for Mitt Romney, though. At least with this event, there's no chance he can brag about knowing the teams' owners. The only way he could screw this up would be to fill out his own brackets on a whiteboard covered in hundred-dollar bills.
Here's the clip, from ESPN:
Have a tip we should know? tips@mediaite.com