Barney Frank Demands Higher Taxes Over Boston Bombing, MSNBC Anchor Calls Him Out For Politicizing Attack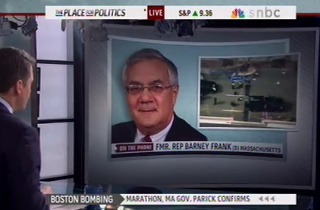 Former Rep. Barney Frank (D-MA), speaking with MSNBC anchor Thomas Roberts on Tuesday, made the case that the government needs to raise tax rates and generate more federal revenue in order to ensure Massachusetts does not have to pay for the post-Boston Marathon Bombing rebuilding effort. Roberts expressed his concern that Frank was politicizing the deadly attack less than 24-hours after the fact.

RELATED: Former NYC Mayor Rudy Giuliani: 'It's Surprising There Haven't Been More Of These' Attacks Since 9/11
Frank cautioned that there should not be a "hyperbolic" reaction to the attacks, and that he thinks Bostonians will feel safe again in the near future. However, he said that the attack is an effective argument against those who would seek to shrink government.
"No, let's continue to build up security," Frank said. "This is very expensive for the city of Boston over time."
"I hope that we will be able to find some revenue so that Boston doesn't have to pay for this absolutely necessary expenditure by cutting back on other important services down the line," the former Democratic congressman continued.
"Do you feel like you're capitalizing and making political hay of this event that happened?" Roberts asked.
"I'm talking common sense," Frank replied. "I'm saying that, if the sequester had gone through and we had not had enough money, we couldn't be able to do this. I'm making an argument about reality, and that's the only responsible response."
Frank concluded that he hoped that some people would be "less enthusiastic" about "reducing our ability to respond to a crisis like this." Frank called the Boston attack a "teaching moment" about what Americans expect from civil society.
Watch the clip below via MSNBC:
> >Follow Noah Rothman (@NoahCRothman) on Twitter
Have a tip we should know? tips@mediaite.com