Beck Sums Up 'Global Tea Party' To O'Reilly: Individuals Vs. The George Soros Machine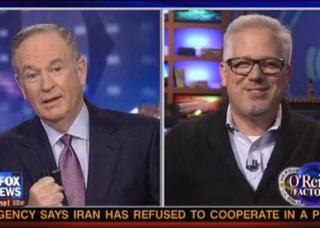 Glenn Beck spent part of the week in Rome, talking to cardinals at the Vatican and uniting global Tea Party leaders. On The Factor tonight, he told Bill O'Reilly he was up to building a global coalition, one he hoped to be of "individuals against the machine [George Soros] is trying to build.
RELATED: Ex-Victoria's Secret Model Tells Glenn Beck She Quit Because Of Her Faith
After some banter on New York's Cardinal Dolan (with O'Reilly joking that "I'm the biggest sinner in the world and you have to put up with me because I was baptized"), Beck got to describing the work of small government "Tea Party" groups across the world. "There were people from Georgia, Bosnia, Germany, London," he noted, arguing that "the left is united around the world, and it is time for those who want freedom, faith, and justice for all." He added that many places around the world lacked a small-government tradition.
"Are you the leader of the worldwide Tea Party?" O'Reilly asked. He meant it seriously, though given their chemistry, it always seems in jest when he asks such questions. "No, I'm a dad and a guy who believes in what he says," Beck responded, warning that "Europe is going to fall into real darkness and the old hatreds will rear their ugly heads if we don't help each other." To that end, he was merely facilitating the "global freedom movement."
"You seem to be the catalyst of all this," O'Reilly noted, added that he perceived the situation as Beck and Soros vying for "dominance of the world." "I see it as individuals against the machine he is trying to build," Beck admitted.
The segment via Fox News below:

Have a tip we should know? tips@mediaite.com