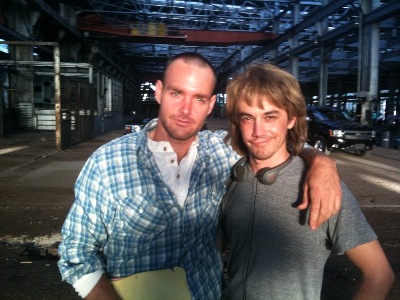 MacGruber is moving away from poorly defusing ticking bombs in tight spaces to the wide open of New Mexico, in the screen version of the Satuday Night Live recurring sketch.
We talked to MacGruber himself, Will Forte, this week about the film's plot, cameos, his new hairdo and more.
Forte and SNL writers Jorma Taccone (pictured, wearing the MacGruber wig) and John Solomon share writing credits on the film, while Lonely Island alum Taccone makes his directorial debut. The team just finished week one of shooting "in and around Albuquerque," and Forte tells Mediaite: "It's everything we were hoping for at this point. Four more weeks like this and we'll be very excited."
The cast is rounded out by Ryan Phillippe (who plays "Piper"), Val Kilmer in the bad guy role, Powers Boothe plays MacGruber's mentor and Kristin Wiig reprising her role as "Vicki." But you won't see too many similarities between the SNL sketch and the movie.
"It doesn't have much to do with that," says Forte. "It's going to be a lot different than people are thinking. It's more like our take on an action movie. All of us grew up loving the big, bombastic 80's action movies, and this is our take on that style."
Forte, who, as you can tell from the picture, is sporting a newly shaved head to combat the wig and New Mexico heat, says the movie is looking big budget, even without the big budget. "Jorma and our DP Brandon [Trost] are just doing an amazing job. It looks like a $100 million movie, it's crazy," he says.
The tentative release date for the film signals a quick turnaround – April 16, 2010. But Forte says, "we're so focused on doing rewrites and stuff that I don't really pay attention to that."
Several wrestling blogs have picked up on the fact that Chris Jericho tweeted he was out filming a scene, and Forte expanded on the WWE cameos. He says Chris Jericho, Big Show, Kane, The Great Khali, MVP and Mark Henry all filmed a few scenes, and will be featured as MacGruber recruits them to be part of his team.
It's going to be a tight schedule for Forte and the rest of the crew. The movie is set to finish filming September 12, with everyone flying back the next day. On the 14th, Forte, Taccone and the rest of the SNLers begin to work on the new season, as Weekend Update Thursday begins September 17 and the 35th season of SNL premieres on September 26.
Have a tip we should know? tips@mediaite.com