Bernie Sanders: Trump Won Because People Are 'Tired' of 'Politically Correct Rhetoric'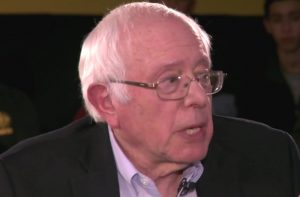 When asked to diagnose why Republican president-elect Donald Trump won the presidency, former Democratic presidential candidate Bernie Sanders said the public was tired of constantly politically correct rhetoric.
"Obviously, [Trump] said things that created tremendous controversy, offense, in some cases, real genuine pain for some folks, Muslim-Americans in particular. But there's a sense he was violating some set of manners that shouldn't exist. What do you make of that?" MSNBC's Chris Hayes asked Sanders during their townhall Monday night.
"I think he said he will not be politically correct," Sanders replied. "I think he said some outrageous and painful things, but I think people are tired of the same old politically correct rhetoric, and they believe that he was speaking from his heart and willing to take on everybody."
Sanders' definition of political correctness was someone different than its usual meaning. "It means you have a set of talking points which have been poll-tested and focus-group-tested and that's what you say rather than what's really going on. And often, what you are not allowed to say are things which offend very powerful people," he said.
Hayes pushed back, pointing out that most people take "political correctness" to mean the rules policing speech and sensitivity towards minorities, not speaking out against the U.S. trade policy. "When we talk about political correctness, they're basically just rules about not being a jerk," he insisted.
"I'll tell you what else he was doing… he was talking about the media," Sanders shot back. "Do people here think the media reflects the reality of American society?" The audience jeered in response.
Watch above, via MSNBC.
—
>>Follow Alex Griswold (@HashtagGriswold) on Twitter
Have a tip we should know? tips@mediaite.com