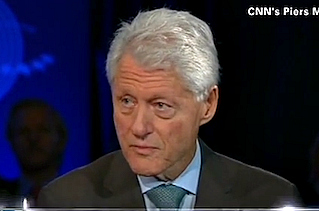 Calling him "brutally blunt," former President Bill Clinton said he'd found Vladimir Putin trustworthy in men's interactions, a significant endorsement as the U.S. begins a deal with the Russian leader on the destruction of Syria's chemical weapons stockpile.
"Did Putin ever renege on a personal agreement he made to you?" CNN's Piers Morgan asked in an interview at the Clinton Global Initiative.
"No, he did not," Clinton replied.
"So behind closed doors, he could be trusted?" Morgan asked.
To that Clinton considered his words carefully. "He kept his word in all of the deals we made," he said.
RELATED: Obama to Stephanopoulos: 'This Isn't the Cold War,' I 'Welcome' Putin's Involvement
"We had a really good, blunt relationship," Clinton said. "I think the right strategy, most of the time—but it's frustrating to people in your line of work—is you should be brutally honest with people in private. And then if you want them to help you, try to avoid embarrassing them in public. Sometimes they do things which make it impossible for you to keep quiet.
"But, by and large, all the people I dealt with appreciated it if I told them the truth, how I honestly felt and what our interests were and what our objectives were. And they also appreciated when I didn't kick them around in public for as long as I couldn't kick them around. That's my experience."
Watch the full segment below, via CNN:
[Image via screengrab]
——
>> Follow Evan McMurry (@evanmcmurry) on Twitter
Have a tip we should know? tips@mediaite.com