Bill Kristol Dismisses 'Dangerous,' 'Neo-Isolationist' Rand Paul's Political Future After CPAC Straw Poll Victory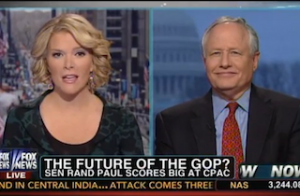 After Sen. Rand Paul (R-KY) delivered one of the most talked-about CPAC speeches and won the convention's annual straw poll last week, Fox News' Megyn Kelly invited two prominent conservative voices on her show Monday to discuss the senator's political prospects.
Weekly Standard editor Bill Kristol came out swinging against Paul, saying he was wrong for criticizing the "GOP of old" in his filibuster and CPAC speech. Kristol argued that the "problem with the Obama administration" is not that they are "using too many drones" but rather that they are "too weak abroad." He asserted, "I believe the Republican Party will end up nominating a national security hawk and not a Ron Paul neo-isolationist."
Responding to the evident excitement over Paul's views from younger members of the party, Kristol insisted that he's "not defending the old school" and has nothing against younger candidates like Sen. Marco Rubio (R-FL) and Rep. Paul Ryan (R-WI). He even joked, "I just think Rand Paul is too old."
Later Kristol commended Paul for showing "the spunk, the nerve, the verve" that he did during his filibuster, but he warned Republicans against thinking that any fight with President Obama is worthy on its own. "At the end of the day," Kristol said, "Rand Paul is for retreat from the world and he's got a principled, more or less neo-isolationist view and doesn't think we need to be on the offensive around the world. I think that's a dangerous policy."
Breitbart.com columnist Larry O'Connor had the job of defending Paul from Kristol's critiques. He summed up Paul's potential political strengths by comparing him to Sen. John McCain (R-AZ), who has come to represent the "old guard" of the GOP after picking a fight with his younger Senate colleague.
"It was horrific to see Senator McCain come out there like a grumpy old man, decrying college libertarians in their dorm rooms getting excited about Rand Paul," O'Connor said. "If Senator McCain had some of those college libertarians on his side he'd be President McCain right now and not just the angry man in the senate trying to kill everybody's excitement."
Watch video below, via Fox News:
—
>> Follow Matt Wilstein (@TheMattWilstein) on Twitter
Have a tip we should know? tips@mediaite.com