By Removing The Personal Element And Media Filter, Hillary Clinton Just Eclipsed Obama On Gay Rights
By Removing Personal Element & Media Filter, Hillary Eclipsed Obama On Gay Rights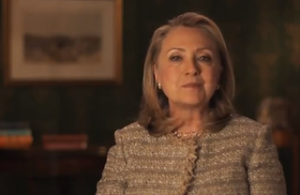 When Hillary Clinton publicly expressed her support for same-sex marriage Monday, her announcement followed not only that of President Obama but also those of Republicans like former Vice President Dick Cheney and current Senator Rob Portman (R-OH). But in both the content of what she said and medium through which she said it, Clinton set herself apart from those who came before her and delivered a more universal and lasting plea for LGBT equality.
With her video, posted on the Human Rights Campaign's YouTube channel as part of that organization's Americans for Marriage Equality initiative, Clinton cited her experience as secretary of state and as a citizen of the world as influencing her endorsement of gay marriage. Unlike Cheney, whose lesbian daughter recently married her long-time partner, and Portman, whose son recently came out of the closet, Clinton didn't reveal any close family member or friend whose sexuality made her want to support gay marriage.
Even President Obama, who first expressed his support for same-sex marriage in a 2012 interview with Robin Roberts on ABC News, mentioned personal relationships as catalysts for his "evolution" on the issue.
"Over the course of several years, as I talk to friends and family and neighbors, when I think about members of my own staff who are incredibly committed, in monogamous relationships, same-sex relationships, who are raising kids together… they're not able to commit themselves in a marriage."
In addition, Obama, like the aforementioned Republicans who now support gay marriage, has framed the issue as more of a personal belief than a universal right. Again, from his 2012 interview with ABC:
"At a certain point, I've just concluded that– for me personally, it is important for me to go ahead and affirm that– I think same-sex couples should be able to get married. Now– I have to tell you that part of my hesitation on this has also been I didn't want to nationalize the issue. There's a tendency when I weigh in to think suddenly it becomes political and it becomes polarized."
While Obama has taken key steps to further equality since the announcement, becoming the first president to mention gay rights during an inaugural address and recently asking the Supreme Court to overturn California's gay marriage ban Prop 8, he has generally taken the view that gay marriage should a state issue rather than be decided in one large-scale national decision. The president has not set out to impose his "personal" view on all Americans.
Clinton's remarks move beyond the "personal" and into the realm of "policy." With her declaration today, she may be indicating how she would go further in her support than Obama has if she becomes president in 2016.
"LGBT Americans are our colleagues, our teachers, our soldiers, our friends, our loved ones. And they are full and equal citizens and they deserve the rights of citizenship. That includes marriage. That's why I support marriage for lesbian and gay couples. I support it personally and as a matter of policy and law, embedded in a broader effort to advance equality and opportunity for LGBT Americans and all Americans."
The medium by which Clinton chose to convey her message is also significant. While less than a year ago, President Obama granted a highly-promoted "exclusive" interview to ABC News, Clinton completely removed any media filter by going directly to YouTube with the Human Rights Campaign. While Obama's interview suggested a (relatively) impartial platform, Clinton's embraced an activist cause. The Human Rights Campaign bills themselves as the "largest civil rights organization working to achieve equality for lesbian, gay, bisexual and transgender Americans." By using that organization as her platform, Clinton makes no illusions that she is simply sharing her personal opinion, but rather demonstrates that she will be actively working towards change.
There is one section of Clinton's speech that did move into personal realm. It's when she discusses celebrating her own daughter's wedding in 2010. Watching her daughter marry the person that she loved, who happened to be of the opposite sex, made Clinton think about all of those parents who don't get to see their children experience the "same joy."
"A few years ago, Bill and I celebrated as our own daughter married the love of her life, and I wish every parent the same joy. To deny that opportunity to any of our daughters and sons solely on the basis of who they are and who they love is to deny them the chance to live up to their own God-given potential."
Unlike Cheney, Portman and others, Clinton's child didn't need to be gay for her to recognize the universality of the happiness that marriage can bring to all people. And unlike President Obama, perhaps President Hillary Clinton would treat gay rights as civil rights from the beginning of her time in office and make sure that no one is denied this basic pursuit of happiness simply because of who they love.
Watch Hillary Clinton's full announcement video below, via YouTube:
—
>> Follow Matt Wilstein (@TheMattWilstein) on Twitter
Have a tip we should know? tips@mediaite.com