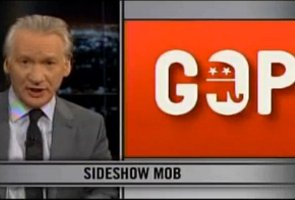 While Bill Maher didn't say anything as provocative on Real Time this week as, say, calling the Qur'an a "hate-filled holy book," it wouldn't be Bill Maher if he weren't antagonizing someone, and tonight he needled one of his favorite targets, the Republican Party.
Maher's main beef with the right wing tonight: a perceived lack of focus on real issues. He rattled off a list of what he called the "useless distractions that make up the Republican Party agenda" – they included public unions, Sharia law, anchor babies, the "Ground Zero mosque," NPR, and the "war on Christmas," among others. So bad is this problem, Maher said, that trying to govern with Republicans "is like rooming with a meth addict" who, instead of rent, is worrying that police bugged the air conditioner.
Maher ridiculed Oklahoma for voting to ban Sharia when the Muslim population there is "rapidly approaching zero." He ridiculed the ACORN crackdown: "Republicans are obsessed with people cooking up wild, nonexistent schemes to vote, ignoring one important truth: this is America. No one wants to vote." And he ridiculed the New Black Panthers furor thusly: "Every black person scares you." (What would a Bill Maher riff on Republicans be without a joke about them all being racist, after all?)
There was a lot of ridicule happening, really. And what were those real issues that Maher wants politicians to focus on? "Climate change, loose nukes, debt, infrastructure, the wealth gap, our addiction to oil from weird, distant places run by monsters that want us dead, like Alaska." Watch video of the segment (and Det. John Munch Richard Belzer interject with his reactions) below, via HBO.
Have a tip we should know? tips@mediaite.com