Bill O'Reilly Bashes The 'Secular Clown Posse' For Trying To Impose Values On The Rest Of Society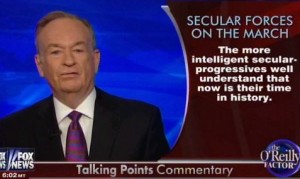 Bill O'Reilly is to secular progressives as little children are to the boogeyman. And with O'Reilly in the midst of fighting the good fight in the War on Christmas™, perhaps there is no better time of the year for the Fox News host to draw attention to the secular culture growing and spreading throughout the United States. O'Reilly said the more intelligent secular progressives recognize that this is their time in American history.
RELATED: Bill O'Reilly: Why Aren't Christian Leaders More Outraged Over The War On Christmas™?
O'Reilly blamed secular progressives for trying to control the economy and "profits in the private sector," in order to redistribute the wealth. This group is also responsible for supporting gay marriage and legalized drugs, the latter of which O'Reilly highlighted the dangerous consequences of, especially where prison sentences for drug dealers are concerned.
Of course, as O'Reilly himself admitted, by constantly talking about secular progressives, he's become a "big target" to them. He brought up a soundbite of singer Harry Belafonte most likely half-joking earlier today that Obama's critics need to be locked up. O'Reilly warned that secular progressives have an agenda that would fundamentally change America by embracing social justice.
And then there's the War on Christmas™. O'Reilly acknowledged it has "largely gone our way," but there are still some hurdles they have to jump before proclaiming outright victory, citing a TV writer who threw grenades O'Reilly's way to dismiss the War on Christmas as a bunch of malarkey. O'Reilly said "legions" in the media have created a "secular clown posse" to attack Christians.
The one good ting about being in the secular clown posse? You know what the fuck is up with magnets.
Watch the video below, courtesy of Fox News:
—–
Follow Josh Feldman on Twitter: @feldmaniac
Have a tip we should know? tips@mediaite.com
Josh Feldman - Senior Editor