Bill O'Reilly: Why Is Rep. Ron Paul 'Whining' About Media Coverage And Dodging Me?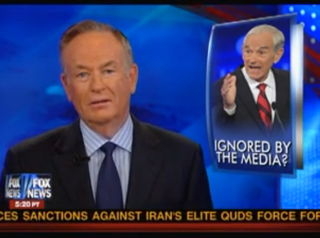 As a candidate polling consistently within the top three of within the race for the Republican presidential nomination, Rep. Ron Paul has received a great deal of media coverage about how little media coverage he gets, even garnering support for being given more airtime by Jon Stewart. Tonight, however, one interviewer called out the Congressman for refusing an invitation to the airtime he complains he rarely gets– Bill O'Reilly, who extended an invitation to Rep. Paul today.
O'Reilly noted that he saw Rep. Paul chatting on the air with Megyn Kelly today, claiming that he had been consistently ignored. "We immediately invited Ron Paul on the Factor," he noted, but did not receive a response from his campaign. "Ron Paul is whining to Megyn, and then we invite him on and he doesn't show up," O'Reilly lamented to guest Dick Morris.
After a discussion of the other 2012 candidates in which Morris concluded only Rick Perry, Mitt Romney and Rep. Michele Bachmann were capable of defeating President Obama in 2012, O'Reilly asked him to make sense of the fact that Rep. Paul had seemingly declined to be interviewed by O'Reilly. Morris concluded that the candidate did not want to face challenging questions– "he's fine when he gives a speech," Morris argued, "but then you probe him…" O'Reilly countered that Rep. Paul had been on the program before and knew his interview style: "I have said to Mr. Paul's face that some of his opinions are insane." But O'Reilly added that his strength came from a "strain of people who love him" that show up regularly in polls. "Those people who love him better love Obama," Morris joked.
The segment via Fox News below:

Have a tip we should know? tips@mediaite.com