Bob Schieffer To Ron Paul: Do You Really Think You Can Win, Or Is There 'A Different Purpose' For Your Run?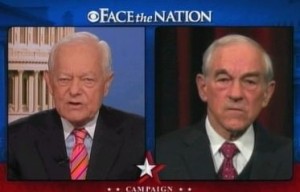 One of the biggest challenges Ron Paul faces in the Republican presidential race is the fact that he has not won a single contest in any state as of yet. Paul appeared on Face the Nation this morning live via satellite from Alaska, where he hopes for a strong showing, and Bob Schieffer asked Paul if he really wants to win the Republican race, given his progress at this point, or if he has another reason entirely for running in the presidential election.
RELATED: CNN's Candy Crowley Asks Ron Paul How He Could Win General Election If He Can't Win A Single Primary State
Schieffer prefaced his question by saying it was a serious one, and he means no disrespect by it.
"Are you in this to the end? Do you really think you could actually win the nomination, or is there a different purpose in your campaign and in your running?"
Paul acknowledged this is not the first time he's been asked that question, before dismissing the idea that it's an either/or situation. After all, as Paul argued, "if you're in a race to make a point" or to promote a certain political philosophy, "the best way to do that is to win." He said that he knows the chances of winning are slim, but Paul still believes he has a chance of surging ahead of the pack.
RELATED: Tim Pawlenty: 'The Last Person To Cut A Back Room Deal In American Politics Would Be Ron Paul'
Schieffer suggested that Paul's main goal in the race may not be to win, but to organize a strong coalition of libertarians and bring more people over to that philosophy. Paul disputed this, adding that he finds it interesting how much people find it hard to believe that politicians have aims other than attaining power. Schieffer brought up Santorum's accusations that Paul has formed some sort of secret alliance with Mitt Romney, to which Paul said he didn't know Santorum was "into the conspiracy business."
Watch the video below, courtesy of CBS:
Have a tip we should know? tips@mediaite.com
Josh Feldman - Senior Editor