Brzezinski Defends Media Scrutiny of Clinton's Emails: Imagine 'If This Were Dick Cheney'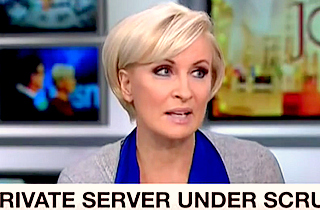 Mika Brzezinski defended the media's scrutiny of Hillary Clinton's personal email account Wednesday morning against accusations that it was much ado about nothing, arguing that if it were Dick Cheney who'd disappeared 30,000 emails we'd all be burning the place down.
"There's a difference between partisan-driven media coverage versus legitimate questions from the media," Brzezinski said. "I really believe that this is in the category of legitimate questions from journalists."
Over the past week Morning Joe has been the first stop for Clinton-friendly figures like David Brock, Howard Dean, and James Carville, who dismiss the story as partisan noise.
RELATED: Morning Joe Battles David Brock over Clinton Emails: 'What Planet Are You on?'
"If this were Dick Cheney," Brzezinski said, "and he said I have my own server and I deleted e-mails I wanted to delete and you guys get the ones I give you, I'm sorry, there would be — "
"– a federal judge would be compelling production immediately," Scarborough said. (They complete each other's sentences!)
Scarborough then took a nostalgia tour through the mid-90s Clinton scandals, saying past was prologue when it came to the Clintons and obfuscation.
"Even leaving the '90s out of this, it's a fascinating question, how the Secretary of State literally goes rogue and has her own suburb in a suburb of New York," Brzezinski said. "If this were Dick Cheney I would be ferociously asking the questions, or Elizabeth Warren, I would be asking the questions. I wouldn't understand it. I don't understand why this is okay."
Watch the clip below, via MSNBC:
[Image via screengrab]
——
>> Follow Evan McMurry (@evanmcmurry) on Twitter
Have a tip we should know? tips@mediaite.com