Bullet Dodged: Ann Coulter Tells Joy Behar That Playboy Magazine Asked Her To Pose Nude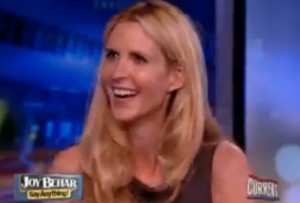 Current TV's Joy Behar: Say Anything is nothing if not interesting, often teaching viewers something new, whether they wanted to know it or not. On Tuesday night's show, host Joy Behar managed to coax some personal revelations out of iconic conservative media figure Ann Coulter. Without naming names, Coulter copped to having dated liberals in the past, and grabbed a last bit of attention as Behar teased to commercial by claiming that Playboy Magazine once asked her to pose nude.
It's unclear when this happened, but the world was mercifully spared a tsunami of right-wing joy jelly that would have entailed billions in cleanup costs when Coulter turned the magazine down. Apparently, one of the most popular Coulter-related internet searches is "Ann Coulter in Playboy."
Behar was teasing a segment about Jenny McCarthy, and asked Coulter if she would ever pose for Playboy. "No," Coulter replied.
"You're very attractive, you could do it," Behar said. "It would soften you up a little."
"They asked me to once," Coulter quietly offered, "and I said no, I would never do it, I'm a Republican, Joy!"
Joy started to say something about Republicans she knows, and thought better of it.
Here's the clip, from Current TV's Joy Behar: Say Anything:
Follow Tommy Christopher (@TommyXtopher) on Twitter.
Have a tip we should know? tips@mediaite.com