Newsbusters has Newsbusted MSNBC for applying some pretty clumsy edits to some news footage in order to conceal the racial identity of a black man who brought an AR-15 rifle to a Presidential town hall in Phoenix. The segment was a discussion about a possible racial component to the recent rash of gun-toting town hall attendees.
Here's the MSNBC clip:
Here's a CNN clip that shows the same angle from which the MSNBC shot is cropped:
There is absolutely no excuse for this kind of sloppy work. While a talking heads segment might not seem like the fulcrum upon which journalism rests, this is exactly the kind of manipulation that destroys the credibility of all journalists.
Which brings me to my busting of Newsbusters and Hot Air. If you are going to excoriate someone for leaving out important information, then you ought to be including all of the pertinent information, too.
Neither Newsbusters, nor Hot Air, pointed out that the man with the AR-15 was actually put up to it by a conservative radio host. They also each failed to mention that he was only one of twelve people who carried weapons to that event.
On the other hand, both Newsbusters and Hot Air are openly partisan websites, which, I imagine they'd say, is their entire point about MSNBC.
Michael Calderone from Politico reports that Bill Wilson, president of Americans for Limited Government, has sent a letter to the NBC/MSNBC/GE brass demanding "the immediate termination of Contessa Brewer, Toure, Dylan Ratigan and any and all others involved in any way with the fraudulent "news" that ran in the 10:45AM segment of your August 18 broadcast." MSNBC's spokesperson called it "ridiculous"; earlier they had stated that "Contessa was speaking generally and not about that specific person with the automatic weapon."
She may well have been; we've asked MSNBC who made the edits and whether the hosts knew that the piece has been edited, and are awaiting response. Either way, this speaks to my point from above: There is absolutely no excuse for this kind of sloppy work.
Update:  A commenter questioned whether the man in the MSNBC shot was the same as the one in the CNN segment.  This side-by-side comparison should clear up any doubts: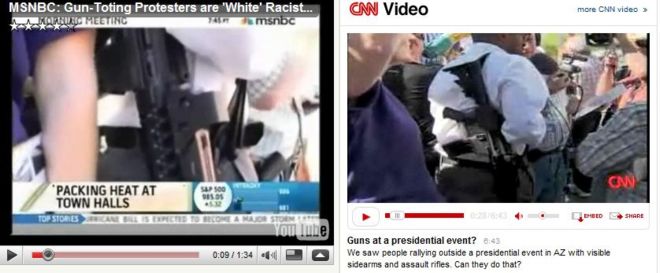 Have a tip we should know? tips@mediaite.com