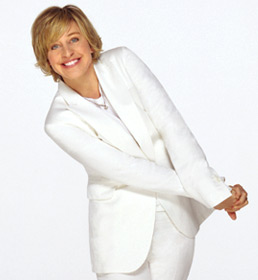 So, collective consciousness of America: Ellen DeGeneres is replacing Paula Abdul on American Idol. Did you reach for the smelling salts when you heard of the 'shocking' pick? Are you horrified that an openly gay woman is hosting 'Merica's favorite talent show?
Probably not.
Some outlets are trying to spin this as a jaw-dropping, left-field choice, which it isn't. MSNBC.com's Craig Berman writes, "The first reaction to the news that Ellen DeGeneres is replacing Paula Abdul as the fourth judge on "American Idol" is easy. Has everyone at FOX and 19 Entertainment lost their collective minds?"
Aside from most people probably not knowing what 19 Entertainment is or thinking about it immediately, this is a wild overstatement. Noted arbiter of tastes Perez Hilton may be closer to the mark when he writes, "Whosever idea this was deserves a HUGE pay raise! Inspired choice." Perez Hilton: 1. MSNBC guy: 0.
According to the AP, Idol fans are divided about the DeGeneres pick, but only because she doesn't have the same music industry experience as the other judges. Her sexuality is a total nonissue; the Ellen DeGeneres Show draws strong ratings in syndication. America's gotten used to her.
And to return to the 'experience' point: how much do people watching Idol really care about that in the moment? People like Simon because he says mean/funny putdowns, not because of his industry experience. And Kara DioGuardi has tons of musical experience, but no one seems to like her all that much. Just 28% of respondents to a People online poll said they were happy she was coming back for Season 9. American Idol is, after all, a popularity contest, and Ellen's wit and likability will be a welcome boost for the show.
DeGeneres might not have been an 'obvious' choice, but she was a creative, entirely defensible one. To use a terrible analogy from 2008 presidential politics that may get me flamewarred for a variety of reasons, Fox's picking DeGeneres is a lot more like John McCain picking Kay Bailey Hutchison to be his VP than John McCain picking Sarah Palin.
Here's a video of Ellen announcing that she was taking over Paula's slot on her show yesterday:
And here is a video of Ellen dancing to Soulja Boy, because why not:
Have a tip we should know? tips@mediaite.com