Carson Doubles Down: Abortions Are the Number One Cause of Death For Black People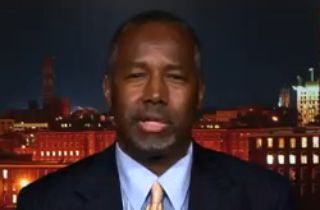 Dr. Ben Carson spoke with Eric Bolling on The O'Reilly Factor about his recent controversial statements about how Planned Parenthood clinics are strategically placed in order to control the African American population. Carson began the discussion by reiterating his position that Parenthood founder Margaret Sanger was a eugenist who was "was not enamored of black people."
As Bolling asked him about abortion rates in black communities, Carson responded by saying it was a matter of deciding whether those black lives matter as much.
"The number one cause of death for black people is abortion, and I wonder if maybe some people might at some point become concerned about that and ask, why is that happening," Carson said. He went on to continue his point about Sanger's alleged eugenics leanings, saying that if Parenthood employees learned about her, they'd be less keen to defend their practices:
I encourage people to go and read about Margaret Sanger and go and read about the beginnings of this organization so that you know what you're dealing with. One of the ways that they're able to perpetrate the deceit is because people are not informed. The more people are informed, the less likely these kinds of things happen.
Bolling also asked Carson to respond to reports that he used fetal tissue during his career as a neurosurgeon. Carson dismissed the allegations, accusing the left of leaving out information and saying that he merely delivered the sample as part of a cell differentiation experiment.
"All pathology departments will have a whole array of tissues, from day one of conception until 99 years old," Carson explained. "You're making comparisons to derive examinations. Just because they get the fetal tissue means they should throw it out, that's how science is advanced."
You can watch the segment here:
[image via screengrab]
— —
>> Follow Ken Meyer (@KenMeyer91) on Twitter
Have a tip we should know? tips@mediaite.com