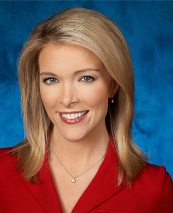 Mediaite hears Fox News is expected to announce changes to its daytime line-up, which will result in Megyn Kelly getting her own show at 1pmET.
Before she left for maternity leave, she had been paired with Bill Hemmer on America's Newsroom from 9-11amET. Martha MacCallum takes her role there.
Kelly's 1pmET two-hour show takes the place of The Live Desk, which launched in its current form in June 2008. The show does not yet have a name. All changes take effect Monday, February 1.
Hemmer (who just returned from Haiti) and Kelly are two of the biggest news anchors at the network, and were paired before the 2008 election as anchors on America's Election HQ. This allows FNC to spread the two to four hours of daytime news programming.
It also gives Kelly a bigger presence. She has served as a guest host of On The Record, and regularly appears on The O'Reilly Factor in prime time.
> Update: Here's the full release:
MEGYN KELLY TO ANCHOR NEW TWO-HOUR DAYTIME PROGRAM ON
FOX NEWS CHANNEL

Hemmer to Lead America's Newsroom

FOX News Channel's (FNC) Megyn Kelly will begin solo anchoring a new two-hour dayside program from 1-3PM ET on Monday February 1st which will replace The Live Desk, announced Michael Clemente, Senior Vice President of News Editorial for the network. Bill Hemmer will now be joined by Martha MacCallum in co-anchoring America's Newsroom from 9-11AM ET, where he will begin FNC's signature daytime news programming block (9AM-4PM/ET). The remainder of the dayside line-up will continue in its current form.

In making the announcement, Clemente said, "We've been incredibly fortunate to develop two valuable assets in Bill Hemmer and Megyn Kelly-dividing their journalistic expertise across our daytime lineup will only serve to broaden our strength as a network."

Kelly's new afternoon program will focus on the top stories of the day, covering breaking news as well as showcasing interviews with key newsmakers and experts offering analysis on the day's events. Additionally, the two-hour block will include her signature legal segment, "Kelly's Court," which will showcase Kelly's skills from her previous career as a litigator. Aside from anchoring a new two-hour program, she will continue to appear as a regular guest on The O'Reilly Factor every Thursday evening during her branded legal segment, "The Kelly File."

Kelly commented, "Although I will miss starting my mornings with Bill, I'm thrilled to embark on this new opportunity and look forward to delivering the news during what is shaping up to be one of the most historic news periods of our time."

Hemmer added, "I couldn't have asked for a better co-anchor in Megyn but I'm excited to lead America's Newsroom in 2010 and continue to kick off our daytime news line-up every morning."

Since 2007, Kelly has co-anchored America's Newsroom alongside Bill Hemmer. During the 2008 political season, Kelly and Hemmer also co-anchored America's Election HQ at 5pm. Throughout that election period, she reported extensively from both the Democratic and Republican National Conventions and analyzed exit poll data on election night.

Prior to her role as an anchor, Kelly was a general assignment correspondent based in Washington, D.C., where she provided live coverage of the confirmation hearings for U.S. Supreme Court Justice Samuel A. Alito Jr. and Chief Justice John Roberts. She also reported on the retirement of Justice Sandra Day O'Connor and the death of Chief Justice William H. Rehnquist, in addition to the indictments of Scooter Libby and Tom DeLay. In 2007, Kelly reported on the rape charges against the Duke University lacrosse players and broke new details that ultimately helped exonerate the defendants.
—–
» Follow Steve Krakauer on Twitter
Have a tip we should know? tips@mediaite.com