Is Glenn Beck Nervous About Sarah Palin Taking 5pm…Or Looking To Prime Time?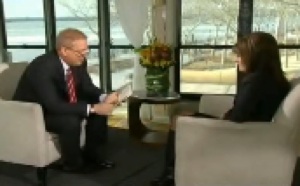 A far-fetched gossip item by PopEater's Rob Shuter speculates that Glenn Beck is nervous new colleague Sarah Palin will take over his 5pmET time slot on Fox News.
But the real story may be more about prime time, and what Beck really wants.
"Glenn has convinced himself that it's his 5 p.m. slot that Sarah has her eye on," says a source to Shuter, who writes, "there's only room for one diva at 5 o'clock."
This sounds wrong on many levels – mainly that Beck is quite obviously, well, a fan of Palin. Also, Palin has been an FNC contributor for less than two weeks. To say she's not ready to host her own hour-long show would be an understatement.
FNC SVP Joel Cheatwood tells Mediaite: "The story was laughable."
But Beck may be looking beyond 5pmET. An insider tells Mediaite that Beck has his sights on Bill O'Reilly's 8pmET hour, when O'Reilly leaves in two years. Beck, a frequent guest on top-rated cable news show The O'Reilly Factor, is also about to go on a joint tour with O'Reilly, as their "Bold Fresh Tour 2010" kicks off this weekend.
Cheatwood shoots down the rumor. "[Beck] is just so thrilled to be doing the program he's doing," he says. "The numbers have borne out that the time period is not a huge issue. It never comes up in conversation. The only thing he worries about is doing the best show he can each day…The success he's realized at five o'clock is historic and proves good programming will draw an audience wherever it's placed."
Although O'Reilly is very much at the top of his game, it wouldn't be a huge shock if he decided to retire after his contract is up – he's discussed retirement openly before. He ended his radio show last year.
"All I can tell you is he's coming off his most successful year ever, he's at the top of the game and let's just hope and pray he keeps doing it for as long as possible," said Cheatwood of O'Reilly. "He's a juggernaut."
We also asked Cheatwood about longtime FNC producer Gresham Striegel, who TVNewser reported left Beck's program for MSNBC recently. "We don't comment on personnel matters," he said.
—–
» Follow Steve Krakauer on Twitter
Have a tip we should know? tips@mediaite.com