Cheney Clarifies Comments Saying McCain Choosing Palin In 2008 Was 'A Mistake'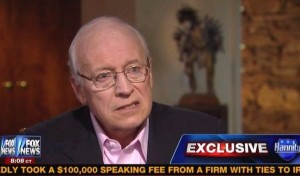 In an exclusive interview on Sean Hannity's show tonight, former vice president Dick Cheney partially walked back his comments referring to the choice of Sarah Palin for John McCain's vice presidential pick in 2008. He said he did not mean the remark as a slight against Palin, but the process that selected her.
RELATED: An Angry Sarah Palin Responds To Dick Cheney: He Is Buying Into 'Lamestream Media' Spin
Cheney said that the vice presidential selection is the first time voters get to see the nominee make an actual decision, so it is an important one to make. Hannity brought up Cheney's remarks about Palin, and Cheney explains that his comments were misinterpreted.
"The question I was addressing when I was interviewed was the question of process, and did I think, for example, the McCain process that was used in 2008, met the standards the way I described them, and my answer was no, I didn't think it did. It wasn't so much aimed at Governor Palin as it was against the basic process that McCain used."
Cheney repeatedly praised Palin and said he voted for the GOP ticket four years ago, but made it clear he thought the process McCain's campaign chose failed the test of whether the VP nominee would be ready on day one to be the president. He said, "The process didn't meet the standards I would like to see our candidate pursue when they pick a running mate."
Watch the video below, courtesy of Fox News:
Have a tip we should know? tips@mediaite.com
Josh Feldman - Senior Editor