Chris Christie: If Obama Can't Change Washington, 'What The Hell Is He Doing' Asking For Re-Election?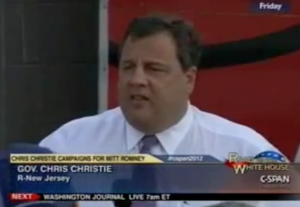 Over the weekend, New Jersey Gov. Chris Christie, during a speech in Richmond, Virginia, took aim at President Barack Obama's comment about how he's learned he can't change Washington from the inside. If the president believes that, Christie said, "what the hell is he doing asking for another four years?"
RELATED: Obama: 'You Can't Change Washington From The Inside'
"You may not know this, but the president loves me," Christie said, eliciting laughter from the audience. "So since he loves me, I want to help the president."
Thus, Christie noted president's remark. "You can't change Washington from the inside," Obama said back in September. "You can only change it from the outside."
"If you don't think you can change Washington from inside the White House, then let's give you the plane ticket back to Chicago you have earned," Christie said, asking, "I mean that is a scary thing for the President of the United States to say, isn't it?"
Christie continued: "It shows his arrogance. If he really believes that, if he believes that, then what the hell is he doing asking for another four years?"
The governor said the comment not only reveals Obama's arrogance, but also his refusal to take the blame for anything. He'll blame anyone but himself, Christie said, pointing to names like George W. Bush as well as Republican lawmakers. And yet, Obama still asks for another term so he can "figure it out," Christie said.
Coming to his broader point, Christie criticized Obama for lack of leadership skills, arguing that he barely spent any time in the Senate before moving to the White House — that he simply has no leadership experience.
So now, "he's blindly walking around the White House," Christie said, "looking for a clue."
The portion of his speech below, via C-SPAN:

(H/T Washington Examiner)
Have a tip we should know? tips@mediaite.com