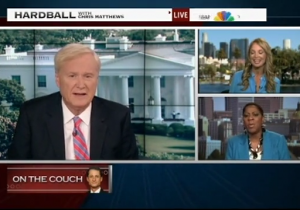 When Chris Matthews starts to talk about gender issues, you know something weird is going to happen. When the Anthony Weiner scandal first broke, Matthews had no idea what sexting was (and even briefly suggested Weiner's wife may be "partly responsible"), but on Hardball Thursday night, he had another pressing question about this sexting phenomenon: women do it too, right?
Matthews was talking with his two female guests about the borderline arrogant way Weiner presented himself at his big press conference to address the latest round of sexting. And then his curiosity got the better of him.
"Let's go to the gender aspect of this. You're both women, and I'm a male. Let me ask you this question, I'm wide open on this. Is this something that only men do? Is there any recorded history in our modern technology of women doing this kind of tweeting, naked tweeting–digital streaking, that's what I call it–does anybody on your side of the gender argument, and it is an argument, do this?"
Even before he got to the end of his question, his guests were practically shouting "Of course!" at him. This satisfied Matthews' concern that some of the outrage over Weiner's photos may have been a "feminist issue."
Let's first get the stats out of the way just so we're clear here. Yes, women sext. A 2011 survey of over 5,000 users of the infidelity service AshleyMadison.com found that two-thirds of the women involved sent sexts, compared to one-half of the men, with the conclusion that actually, women do it more. A survey from romance novel publisher Harlequin found a significant percentage of women have sent sexts and "racy messages while in a serious relationship." I grant you, these might not be the most scientific sources, but it's something.
And if Matthews is really surprised that women take provocative, sexy, sometimes naked pictures of themselves just like men do on occasion, I'd like to know if he's using the same internet that the rest of us are, because every few months or so, some celebrity will have a naked picture that gets leaked or accidentally tweeted or something, and you literally cannot go to any website without finding it out, and then the entire globe practically bursts with perverse joy.
Unless it's Geraldo. That one got a decidedly different emotional response.
Watch the video below, via MSNBC:
—–
Follow Josh Feldman on Twitter: @feldmaniac
Have a tip we should know? tips@mediaite.com
Josh Feldman - Senior Editor