CNN Host Calls Hobby Lobby's Birth Control Investments 'Hypocrisy at Its Finest'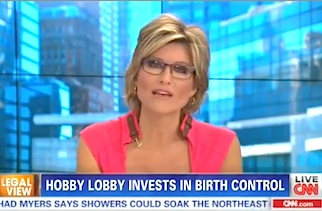 Hobby Lobby may not want to provide their employees with certain types of birth control, but they apparently have no problem investing in companies that manufacture them. Earlier today, CNN's Ashleigh Banfield reported on the revelations that Hobby Lobby's 401(K) plan for employees includes pharmaceutical companies like Pfizer and Teva, which produces the "morning-after pill" Plan B.
"The critics are calling Hobby Lobby's 401(k) investments hypocrisy at its finest," Banfield said on Wednesday, adding the CNN had reached out to the company for comment and did not receive a response, despite giving them "plenty of time" to do so.
A seemingly frustrated Banfield said she initially thought the investments must be an "accident," but then realized "it's no accident when you are in the middle of the biggest political storm, all the way to the Supreme Court."
CNN business correspondent Alison Kosik told Banfield that the pharmaceutical investments actually could be an "oversight" by Hobby Lobby, given the size of the funds in question, with hundreds of stocks. They could also argue that it's the employees, not the company, who are making the investments.
"But if you ask me, if they are that fervent about upholding biblical principles, maybe that should include their investments, too," Kosik added. "That's putting their money where their mouth is."
When Kosik wondered aloud whether Hobby Lobby is aware of the contradiction, Banfield laughed, saying, "Well, it's on CNN now, so I think they're pretty aware of the controversy."
Watch video below, via CNN:
[h/t Raw Story]
[Photo via screengrab]
— —
>> Follow Matt Wilstein (@TheMattWilstein) on Twitter
Have a tip we should know? tips@mediaite.com