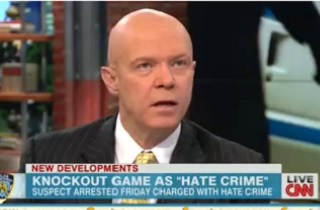 The so-called 'Knockout Game' has been gathering steam as a news narrative, with conservatives demanding that the media finally focus on crimes committed by black people. On Monday morning's edition of CNN's New Day, expert guest Harry Houck, a former NYPD detective, went there, explaining to the New Day anchor team that while "not every black kid is doing this," the only suggestion he could offer to avoid such attacks was "crossing the street, getting away from them" if you see "a group of black youths."
Reporting around the "Knockout Game" has been of the sketchy Shark Week variety, with a handful of cases being amplified by media attention, even when some of those cases might not even be related to the trend. For example, as The New York Times pointed out this weekend, one of the attacks that's most played by national news outlets doesn't appear to fit the narrative:
Much news coverage of reported knockout attacks includes 2012 footage from a surveillance camera in Pittsburgh of James Addlespurger, a high school teacher who was 50, being swiftly struck to the ground by a young man walking down an alleyway with some friends. Yet the Pittsburgh police said the attacker insisted the assault was not part of any organized "game."

"This was just a random act of violence," Police Commander Eric Holmes said in a televised interview last year. "He stated that he was just having a bad day that day." The assailant saw Mr. Addlespurger, the commander said, "and decided this was a course of action he was going to take."
That clip was part of New Day's package, as was CNN correspondent Pamela Brown's framing that incidents of the  Knockout Game "have been reported in six states and Washington, DC."
In her report, Brown conducted man-on-the-street interviews in which she showed videos of attacks to stunned subjects.
Anchor Kate Bolduan asked former NYPD detective Harry Houck  for his take on the phenomenon. "Is this a growing trend?" she asked. "Is this an urban myth, or maybe better stated as growing trend or group of isolated incidents?"
Houck replied that the trend is real, adding that "Urban myths don't exist. These attacks exist in everyone's minds, especially in those victims."
That's when the familiar language of race-baiting began. Asked if the media was contributing to the problem by hyping the attacks, Houck replied that "I think we have to let the public know what's going on to protect ourselves. That's our job. That's the police department's job to protect the public. No matter how politically incorrect it might be. It's to know what is going on and how to protect themselves."
This is where the hustler hides the red card, because when co-host Chris Cuomo asks Houck to explain his remark about "political correctness" (insulating himself and his show from criticism), Houck lays his suggestion off on other people. "I ask people who I run into every day, 'What are you doing?' They say if they see a group of black youths, they cross the street."
Co-host Michaela Pereira pushed back, telling Houck that "black kids don't need to be feel, made to feel they're a threat simply because they are hanging out with friends."
Houck generously allowed that "Not every black kid is doing this. it's very few, but if you are the victim, if you are a potential victim and you are afraid walking down the street, you see a group of black youths, everybody I am talking to says they are crossing the street, getting away from them," and added that "the good black kids will be saying 'Why are you crossing the street when I walk by?'"
While Pereira pointed out that the "majority" of black kids aren't doing this, and Cuomo added that "Black kids are getting clocked, too," their guest expert never gets around to offering any alternative to crossing the street to protect yourselves. He even reiterated it later in the segment, in what could double as a spot-on media criticism. "This is creating terror on the streets, I know," Houck said. "People are, as soon as they see black youths, like I say, everybody I have talked to, I know you don't like that, Michaela, but you can understand why they think that way."
Houck also referenced the classic "the good blacks" frame, which reinforced his earlier suggestion that black teenagers who don't viciously knock people out are someho the exception.
As far as anyone can tell, of course, these crimes are exceedingly rare, and you are orders of magnitude more likely to be killed or injured crossing the street than walking past a group of black youths. This sort of fear-mongering is nothing, new, though; it's not as if white people really needed another excuse to be scared of black kids. What is somewhat new is the attempt to normalize it. Pereira's objections notwithstanding, little is done to challenge the logic of Houck's commentary.
CNN, and the rest of the media, would do well to resist focusing on the racial aspect of these crimes, and instead serve the public with information they can use, such as the serious medical consequences that loss of consciousness can entail.
Here's the clip, from CNN's New Day:
Have a tip we should know? tips@mediaite.com