CNN Law Enforcement Analyst: U.S. 'Has No Political Will' to Address Gun Access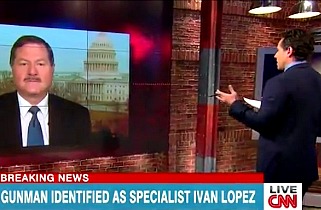 On CNN's New Day Thursday morning, co-host Chris Cuomo talked to CNN law enforcement analyst Tom Fuentes about last night's Fort Hood shooting, and the limited options law enforcement officials had for preventing similar occurrences. Fuentes said it was something that authorities had pleaded with lawmakers to address, but that the country lacked the "political will" to do it.

"[The shooter] is undergoing mental health treatment and evaluation," Cuomo posed. "He is yet still able to walk into a private store and get this semi-automatic handgun that he winds up using. Not a military weapon — his own. Don't you think that's something that needs to be addressed, in terms of who's able to get these conceal carry weapons?"
"That scenario has happened over and other," Fuentes said. "Our country has shown it has no political will to change that situation. If a massacre of children doesn't change this situation, this certainly won't."
"But, as somebody in the business of stopping crime, when you see this pattern, is it something that is relevant to address in your opinion?" Cuomo asked.
"In my opinion, yes, it's relevant to address," Fuentes said. "But in my opinion also, it won't be…That's a political question. Law enforcement executives across the country have asked our leaders to do something about the situation of people with mental problems being able to obtain a weapon and the lack of background checks and on and on. And, you know, we've seen where that's gone over the last how many years. That's not going to change."
Watch the clip below, via CNN:
——
>> Follow Evan McMurry (@evanmcmurry) on Twitter
Have a tip we should know? tips@mediaite.com