CNN Panelists: Dorner's 'Exciting' Rampage 'Like Watching Django' Exact Revenge For Police Brutality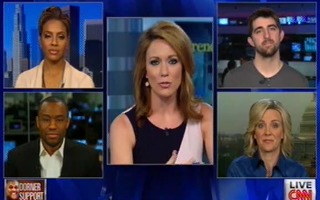 On Wednesday, a CNN panel explored the phenomenon of people on social media expressing sympathy and support for Chris Dorner, whose rampage ended yesterday as law enforcement cornered him in a remote cabin in Big Bear, California. Two of CNN's panel guests said that Dorner's murder spree exposed the issue of "police brutality." One contributor said that Dorner's escapades reminded him of watching "Django Unchained in real life."

RELATED: CNN Guest Claims, 'We Can Learn From' Chris Dorner About Guns, 'Institutionalized Racism'
The Daily Beast contributor Lauren Ashburn said she was offended by those who found Dorner's murderous actions laudable. She said that his attacks on innocent people were a tragedy, and hours of airtime were "wasted" covering the killer's motivations.
"There's no waste here, though," Marc Lamont Hill, host of HuffPost Live and associate professor with Columbia University, interjected. "This has been an important conversation that we've had about police brutality, about police corruption, about state violence."
"As far as Dorner himself goes, he's been like a real life superhero to many people," Hill added. "What he did was awful, killing innocent people was bad, but when you read his manifesto, when you read the message that he left, he wasn't entirely crazy."
Hill said that the people who were rooting for Dorner were rooting for him to extract vengeance against a system that wronged him. "It's almost like watching Django Unchained in real life," Hill said. "It's kind of exciting."
Hill later said that the Dorner exposed the corruption within the Los Angeles Police Department.
MC Lyte, the host of Mocha Cafe, said that Dorner's original motives were benevolent, though she conceded that it as "extreme to take another's life."
"It's an uproar, because people are being brutalized," Lyte said. "We're seeing kids die at the hands of police brutality."
"It's good to hear what these people have to say," Lyte said of Dorner' sympathizers on social media.
Watch the segment below via CNN:
h/t Town Hall
> >Follow Noah Rothman (@NoahCRothman) on Twitter
Have a tip we should know? tips@mediaite.com