CNN Takes A Look At Occupy The Hood: 'Adding Color To The Occupy Wall Street Movement'
CNN Takes A Look At 'Occupy The Hood': Adding Color To The Occupy Movement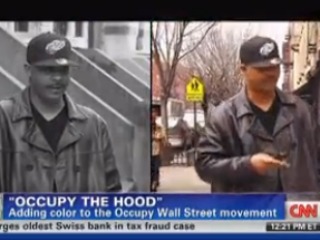 As CNN pointed out this afternoon, not everyone in the so-called 99 percent is simply "not the one percent" — there's a range of different economic groups and diverse backgrounds within that huge chunk of the population and, as with many ultimately well-meaning movements, certain groups' specific needs or concerns tend to be shut out or overlooked. Enter a new movement: "Occupy the Hood," which is, evidently, trying to reach out to minorities sympathetic to but disconnected from the Occupy movement.
The network interviewed New Yorker Malik Rhasaan, who noticed that his fellow protesters down in lower Manhattan's Zuccotti Park were, well. Pretty white. That observation prompted Rhasaan to go online and vent his frustration, asking fellow young black people why they weren't taking part in these protests. He soon learned that many would-be protesters felt "disconnected" from the Occupy movement. So Rhasaan took it upon himself to "bring it in a little closer," as he describes it, and to offer his neighbors a means of looking at how problems arising in Wall Street ended up impacting their own neighborhood.
RELATED: It's About Time: Occupy Wall Street's 'Instant History' Book To Be Released In December
The movement — born out of a Twitter hashtag — focuses on providing immediate solutions to real-life problems within communities, like dealing with a Harlem landlord who refuses to fix his tenants' boiler.
[Also, guys — here's a question for any fellow Latinos and other people often described as being "of color:" What do you think about that term and phrases like "adding color"? Interested in your two cents.]
Check it out, via CNN:
Have a tip we should know? tips@mediaite.com