CNN's Cuomo Battles Wolfowitz over Bush Officials' 'Misleading' Iraq War Claims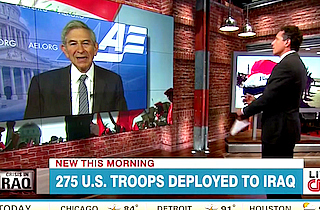 New Day host Chris Cuomo engaged Tuesday morning in a tense interview with former Deputy Secretary of Defense Paul Wolfowitz, whom he identified as the "architect" of the Iraq War (Wolfowitz said if that were true things would have gone differently), asking Wolfowitz to denounce current attempts by Republican politicians and former Bush administration officials to criticize the Obama administration over a conflict they had started.
"Where is the contrition, if you want to use that word, where is the Bush administration saying we got it wrong?" Cuomo asked. "There's a bunch of defenders saying we had to go in, Saddam Hussein was horrible, we did the right thing, and this administration screwed it up. I think that's not only misleading but and counterproductive, because you can't put forward a unified front."
"You can put forward a unified front if you have a unified position," Wolfowitz responded, adding that the United States had a unique capacity to supply intelligence and arms to fight the Sunni insurgents.
RELATED: Erin Burnett Grills Paul Bremer on Iraq: 'Aren't You the One Who Got Us into This Mess?'
Cuomo replied that the Obama administration was considering all the options he'd just laid out. "But they're also trying to defend themselves from these political attacks," he said. "I'm trying to get you to provide some wisdom on how you understand how we got here. I don't understand why you're reluctant to do that, or why you want to ignore it."
Cuomo and Wolfowitz then relitigated the disbanding of the Iraqi army, which many regard as "the single biggest mistake" of the Bush administration's handling of the Iraq War aftermath, but which Wolfowitz argued was necessary to expel Hussein loyalists from the ranks.
Watch the clip below, via CNN:
[Image via screengrab]
——
>> Follow Evan McMurry (@evanmcmurry) on Twitter
Have a tip we should know? tips@mediaite.com