CNN's S.E. Cupp and Stephanie Cutter Clash Over Necessity of College Education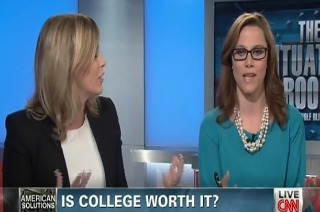 Two of the hosts of CNN's upcoming reboot of Crossfire, S.E. Cupp and Stephanie Cutter, appeared on The Situation Room on Thursday to discuss college affordability and President Barack Obama's remarks on reforming higher education costs from earlier that day. Their discussion erupted over when the pair battled over whether American government resources were being correctly allocated in order to expand access to college, or if the government was forcing people into higher education who cannot afford it and do not belong there.

"Is college worth it, ladies?" asked CNN anchor Jessica Yellin.
"Yes," Cutter replied. "No," she added, pointing at Cupp.
"Of course, it's worth it," she continued. "Is it for everybody? No."
Cupp said that lower skilled jobs are losing their base of labor, and that manufacturing jobs would be better served by having kids attend vocational programs rather than liberal arts schools.
"The trajectory we're currently on is totally unsustainable," Cupp asserted. "President Obama's plan doesn't change the trajectory we're on."
Cutter defended the president's record, citing a variety of programs that he has supported in order to increase manufacturing jobs in the U.S.
"We need to invest more," Cupp said. "And we need to keep the government out of the private sector."
"Government subsidies are increasing the costs of tuition," she said.
Cutter agreed that more investment was necessary, but that it is the market which has failed. "The costs are too high. The value is not there," Cutter countered. "We need to increase the value and increase the transparency."
RELATED: CNN's S.E. Cupp And Stephanie Cutter In Explosive Brawl Over Voter ID
Cupp said that the market cannot function appropriately because federal intervention is overwhelming it. She said that Obama proposed the 57th federal program for financial literacy on Thursday. "How many times do taxpayers need to pay for the same thing over and over again?" she asked.
Both agreed on the point that colleges were not adequately preparing students to join the workforce, but they scuffled over whether President Obama's proposed solutions would address that problem.
Cupp insisted that colleges and the government were not doing anyone any services by elevating unprepared students to Ivy League schools which they are unprepared for. "College of all kind – Ivy league to community – should be available and open to everyone," Cupp said. "But not everyone is right for the best schools."
Cutter said that Cupp was making points no one disagreed with. She added that Obama is directing funding to vocational and manufacturing programs.
Watch the segment below via CNN:
—
> >Follow Noah Rothman (@NoahCRothman) on Twitter
Have a tip we should know? tips@mediaite.com