CNN's Wolf Blitzer Gets NRA Official To Admit: 'Yes, Absolutely, I'm Open To Expanding Background Checks'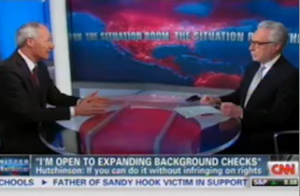 Former GOP congressman and current the Director of the NRA's National School Shield Task Force Asa Hutchinson told Wolf Blitzer Tuesday afternoon on CNN that he is "open to expanding background checks" for gun purchases. Hutchinson's comments appeared to contradict the position that NRA executive Wayne LaPierre put forward as recently as Sunday, March 24th and NBC's Meet The Press.
Hutchinson has presented a plan to protect children from gun violence that includes placing armed guards in schools, but does not call for increased background checks. But when Blitzer pressed him on the potential for "universal background checks" to protect children, Hutchinson admitted that they could be effective.
"Obviously we think it's important to make sure that firearms do not get in the hands of people who are criminals, convicted felons, or adjudicated as mentally ill," he said. But he insisted that his "mandate" has more to do with "school safety issues" rather than the larger issues of who has access to guns.
When Blitzer presented Hutchinson with poll numbers that showed 90% of Americans in favor of background checks, the NRA official responded, "If Congress decides we ought to expand background checks, that is a decision they will make." He specified, "If you're looking at my personal opinion on background checks, I hope Congress can look at a way to do better in having good records in the system that does the background checks."
Finally, Blitzer asked Hutchinson point blank if he is personally open to expanding background checks. "Yes, absolutely," he responded. "I'm open to expanding background checks, if you can do it in a way that does not infringe upon an individual."
Watch video below, via CNN:
UPDATE: According to CNN National Political Correspondent Jim Acosta, Asa Hutchinson has attempted to clarify his comments in an email to CNN:


—
>> Follow Matt Wilstein (@TheMattWilstein) on Twitter
Have a tip we should know? tips@mediaite.com