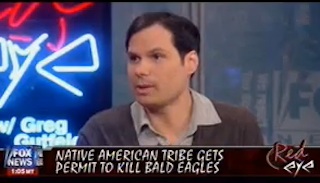 Appearing on Fox News' Red Eye early this morning, comedian Michael Ian Black made a bold stand for religious freedom in standing up for a Native American tribe's right to kill bald eagles.
The show's panel was responding to the Fish and Wildlife Service approval of a permit allowing the Northern Arapaho tribe in Wyoming to kill two bald eagles for a religious ceremony.
"Killing them is like shredding our constitution," contended host Greg Gutfeld
"Well, under the First Amendment we have the right to shred our constitution if we so desire," Black observed. "You can shred the constitution and you can kill a bald eagle as long as they are not endangered, and they are not endangered."
"They are not endangered anymore," Gutfeld noted.
"Right, when I say that they aren't endangered that implies anymore," Black snarked.
Conservative writer Katie Pavlich made the observation that Native Americans could just go to a wind farm to save them the trouble of getting legal protections.
"These Native Americans can save themselves time and energy if they go to a massive wind farm. They kill thousands of eagles every year. They can sit there and it can rain down and they can collect their eagle feathers and they'll be good to go; they don't have to go to the federal government to get them," Pavlich joked.
Later in the program, ombudsman Andy Levy questioned why there was legal issues with killing bald eagles if they weren't endangered.
"I know why, the Bald and Golden Eagle Protection Act," Pavlich keenly pointed out.
Gutfeld thought religious exceptions were a great way to get around using drugs.
"This is how you handle the drug issue too. If I could just start a religion about Percocets, I wouldn't have to lie to my doctor anymore!"
Black brilliantly interjected that under law, Native Americans do in fact get religious exceptions to certain narcotics. "They can use peyote, they can use ayahuasca because it is part of their religious tradition."
"You are not lying!?" Gutfeld asked incredulously.
"No, at this point, I'm not lying," Black acknowledged.
Watch the segment below via Fox News:
Have a tip we should know? tips@mediaite.com