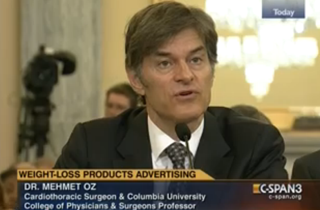 Normally, we would use this space to tell Congress how much it sucks, but today we will be somewhat merciful towards the most useless branch of government, because this morning they spent an entire congressional hearing telling Dr. Mehmet Oz how much he sucks.
Specifically, it was during a Senate panel on deceptive advertising for weight loss products, and Dr. Oz is a pioneer in the field of hawking products that are not actually proven to help people lose weight. (In fact, there's an entire cottage industry based on selling products using the legally-careful phrase "As Seen on The Dr. Oz Show".)
"I don't get why you need to say this stuff because you know it's not true," Sen. Claire McCaskill (D-MO) told Oz, according to The Hill. "The scientific community is almost monolithically against you in terms of the efficacy of the three products you called 'miracles.'"
"We didn't call this hearing to beat up on you," she added. "[But] you can either be part of the police or be part of the problem, and we hope you'll do a better job at being part of the police."
Most prominent among them is green coffee bean extract, which Dr. Oz once hyped on his show as a "miracle" cure for obesity. Spoiler alert: It's not, but that hasn't stopped companies from using Dr. Oz's claims to sell said extract, causing headaches for the Federal Trade Commission and crushing the weight-loss dreams of millions of people.
So why are you allowing people to profit off your LIES, Dr. Oz? (Or, to be extremely specific, why are you saying things that will allow less scrupulous people to turn your ridiculous statements into lies and then profit off the desperate by selling fraudulent weight-loss products?)
Oz replied that he's toned down his language surrounding weight-loss products but defended his desire to connect viewers with remedies he argued could lead to healthier choices.

"My job is to be a cheerleader for the audience when they don't think they have hope," said Oz, also a cardiac surgeon.

"I have things I think work for people. I want them to try them so that they feel better, so that they can do the things we talk about every day on the show [like diet and exercise]."

"When I can't use language that is flowery, that is exulting, I feel like I've been disenfranchised."
If you're surprised that he's defending his tactics because he's gotta be free, damnit, don't worry: Congress is, too. "It's something that gives people false hope," McCaskill argued. "I don't see why you need to go there."
Watch a part of the eight-minute exchange below via CSPAN-3, and the entire hearing here:
[The Hill]
[Image via screenshot]
—
>> Follow Tina Nguyen (@Tina_Nguyen) on Twitter
Have a tip we should know? tips@mediaite.com