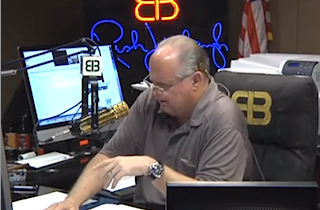 You can add Rush Limbaugh to the list of conservatives who see some sort of conspiracy theory in the announcement Tuesday afternoon that U.S. Special Forces have arrested a major suspect in the 2012 attack on the U.S. consulate in Benghazi.
"Isn't it an amazing timely coincidence that they have found a militia leader of the Benghazi attack and they've arrested him?" Limbaugh asked rhetorically. "Isn't this amazing timing?"
"All of a sudden we've got the 'militia' leader?" he continued. "I thought it was just a ragtag bunch of protesters that got all fired up after this video hit the internet," he said, referring to the "Innocence of Muslims" video that was initially believed to have sparked the 2012 attack.
While a handful of Fox News commentators think the arrest was somehow timed to coincide with Hillary Clinton's interview on Fox News this evening, Limbaugh has a different theory. "It's quite obvious that this is a very timely headline given how things are falling apart in Iraq," he concluded.
In addition to Limbaugh and others, former Congressman Joe Walsh was one of the first to express his doubts about the timing of the arrest on Twitter:
Glad we nabbed a #Benghazi suspect, but the timing is questionable. Did they let him wander, waiting for the perfect political opportunity?

— Joe Walsh (@WalshFreedom) June 17, 2014
Taking an alternative view, President Barack Obama's former speechwriter Jon Favreau summed up what's wrong with these insidious suggestions:
If you're in any way linking the capture of a terror suspect to a BOOK TOUR, you REALLY need to think about taking a break from politics

— Jon Favreau (@jonfavs) June 17, 2014
Listen to audio below, via The Rush Limbaugh Show:
[h/t The Right Pundit]
[Photo via screengrab]
— —
>> Follow Matt Wilstein (@TheMattWilstein) on Twitter
Have a tip we should know? tips@mediaite.com