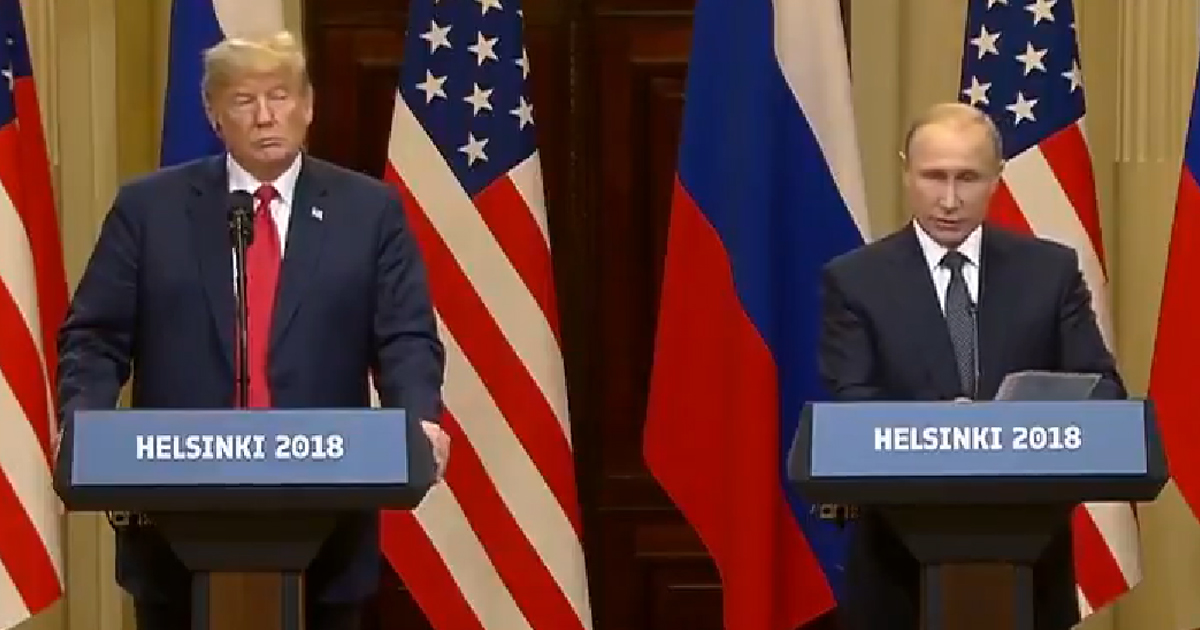 Many Republicans and conservatives were aghast this morning as President Donald Trump's absolute mess of a presser with Russian President Vladimir Putin unfolded. Not everyone had a negative reaction, but there were plenty of them, and they were very strong.
This a sampling, by no means comprehensive, of the pushback from those on the right to the spectacle the world witnessed earlier today.
Look, I'm no big deal, but today is the final straw for me. I will never support Trump again. If that makes me a NeverTrumper, so be it.

I am a tea party conservative, that will never change. But Trump was a traitor to this country today. That must not be accepted.

Speak out.

— Joe Walsh (@WalshFreedom) July 16, 2018
Today's press conference in #Helsinki was one of the most disgraceful performances by an American president in memory.

My full statement on the #HelsinkiSummit: https://t.co/lApjctZyZl

— John McCain (@SenJohnMcCain) July 16, 2018
Missed opportunity by President Trump to firmly hold Russia accountable for 2016 meddling and deliver a strong warning regarding future elections.

This answer by President Trump will be seen by Russia as a sign of weakness and create far more problems than it solves. (1/3)

— Lindsey Graham (@LindseyGrahamSC) July 16, 2018
Senator Collins: Trump demonstrated "his continued refusal to accept the unanimous conclusions of U.S. intelligence leaders and the bipartisan findings of the Senate Intelligence Committee. This position is untenable and at odds with the forceful response this moment demands."

— Billy House (@HouseInSession) July 16, 2018
I don't the our current President should be attacking American institutions abroad any more than I thought the last President should be abroad apologizing for parts of the American legacy.

— Erick Erickson (@EWErickson) July 16, 2018
So that was a disgrace. With that said, the real question is how seriously Putin takes Trump's verbiage. My guess: not very. This is the chief benefit of a White House that often runs independent of the president.

— Ben Shapiro (@benshapiro) July 16, 2018
Putin is completely in command of this situation. He's basically told Trump to go piss up a rope about the GRU guys. ("You want investigations? Sure. I'll look into it. Give me Bill Browder.") Trump, meanwhile, is babbling "no collusion."

— Tom Nichols (@RadioFreeTom) July 16, 2018
Amazingly, that managed to go even worse than everyone expected.

— Lachlan Markay (@lachlan) July 16, 2018
By statement, reported by WaPo's Blake, even Speaker Paul Ryan isn't on board:
STRONG statement from Paul Ryan:

"There is no question that Russia interfered in our election and continues attempts to undermine democracy here and around the world. … The president must appreciate that Russia is not our ally. There is no moral equivalence …"

— Aaron Blake (@AaronBlake) July 16, 2018
Also by statement, reported by Politico's Eliza Collings, an even stronger rebuke from Rep. Trey Gowdy:
Rep. Trey Gowdy, chair of oversight, who played a key role in the Intelligence Committee's investigation has a pretty forceful statement too pic.twitter.com/q6f8z8nqXl

— Eliza Collins (@elizacollins1) July 16, 2018
I don't have anything quippy to tweet. I'm horrified – and have never been more proud of the fact that Putin hates my father so much he personally sanctioned him on Russia's enemies list.

— Meghan McCain (@MeghanMcCain) July 16, 2018
As a member of the House Armed Services Committee, I am deeply troubled by President Trump's defense of Putin against the intelligence agencies of the U.S. & his suggestion of moral equivalence between the U.S. and Russia. Russia poses a grave threat to our national security.

— Liz Cheney (@Liz_Cheney) July 16, 2018
Make America apologize again

— Allahpundit (@allahpundit) July 16, 2018
Disgusting. Trump, given chance to criticize Putin actions, embraces false equivalence that both sides are to blame, talks no collusion, but declines to criticize Putin for interference.

— Philip Klein (@philipaklein) July 16, 2018
Trump's "America first" foreign policy in action: Standing next to Putin and saying "both countries are to blame."

— Philip Klein (@philipaklein) July 16, 2018
"Mr. Gorbachev, we're all to blame for this wall" doesn't quite have the same ring to it.

— Charles C. W. Cooke (@charlescwcooke) July 16, 2018
This is a very interesting tweet thread from National Review's Dan McLaughlin. A sample:
11. Which is why the national security conservatives have been the most hardcore still-Never-Trump faction. Because (along w/trade) that's the policy area where it's hardest to defend or excuse his personal approach without wholly abandoning everything you've ever stood for.

— Dan McLaughlin (@baseballcrank) July 16, 2018
Of course, Trump being Trump, there are rote defenders to spare.
The media give Russia far more credit than Russia deserves, and have done far more themselves to sow discord in the U.S. than Putin's so-called election meddling could have dreamed of

— Elizabeth Harrington (@LizWFB) July 16, 2018
I can't think of a bigger propaganda victory for a tinpot tyrant than having the leader of the world declare publicly that the tyrant single-handedly affected the biggest election on earth using little more than social media trolls and some bitcoin. https://t.co/gXU1cEDLYb

— Sean Davis (@seanmdav) July 16, 2018
Normal Americans are looking at this going "So, why are the liberals so intent on sending our sons and daughters to fight Russia?"

— Kurt Schlichter (@KurtSchlichter) July 16, 2018
Why meet with Putin and negotiate peace when WW3 would have been so much more entertaining?

— Bill Mitchell (@mitchellvii) July 16, 2018
Still, there is a sense that yet again none of it matters once the subject is changed.
Even Fox News is blasting Trump for today.

Quick. Someone say something about a football player kneeling.

— Johnny Internet (@brodigan) July 16, 2018
We will see. And will report on it here at Mediaite.
[Featured image via screengrab]
—
Follow Caleb Howe (@CalebHowe) on Twitter
Have a tip we should know? tips@mediaite.com
Caleb Howe - Contributing Editor