Daily Caller's Matt Lewis Rails Against Background Checks On CNN: 'Public Opinion Has Been Wrong Before'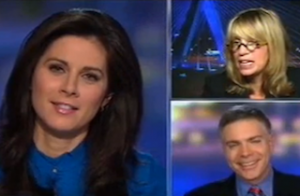 Following up on today's Senate hearings on gun violence prevention, CNN's Erin Burnett invited The Daily Caller's Matt Lewis and Citizens for Safety's Nancy Robinson on her show this afternoon to debate the NRA's apparent flip-flop on universal background checks for gun purchases.
After introducing the segment by showing NRA executive Wayne LaPierre's evolving stance on background checks (he was for them in 1999, but not today), Burnett began by asking Lewis why he thinks they would not be an effective deterrent of gun violence. Lewis dissed LaPierre, asking "has there ever been a worse spokesman?" before explaining why background checks would not have prevented the recent mass shootings in Aurora, Colorado and Newtown, Connecticut, though he did admit they may have been effective in Tuscon, Arizona.
Robinson responded to Lewis' assertions by asking, "Are we going to prevent every single shooting? No. But we can do a lot more to prevent the majority of shootings that are happening."
When Lewis proposed that this is all about the Obama administration accomplishing something "political," Burnett brought out polls that show 92% of Americans wanted background checks at gun stores and 87% wanting them at gun shows. Lewis responded, "Public opinion has been wrong before."
Robinson then suggested that even readers of The Daily Caller "disagree with your position" to which Lewis said "my readers want guns assigned to people, mandatory."
Lewis maintained that all of these moves by the Obama administration and Democrats would ultimately lead to "gun registration," which he views as "unconstitutional." But his real point was that "background checks aren't going to solve the problem. They're not going to do anything."
Watch video below, via CNN:
—
>> Follow Matt Wilstein (@TheMattWilstein) on Twitter
Have a tip we should know? tips@mediaite.com