Dem Rep Thinks Trump Selected James Mattis For Defense Secretary Because of 'Mad Dog' Nickname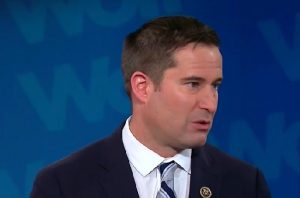 During an appearance on CNN this afternoon, Rep. Seth Moulton (D-MA) spoke to host Wolf Blitzer about the potential of David Petraeus as President-elect Donald Trump's Secretary of State. He gave his take on Trump's choice of retired General James 'Mad Dog' Mattis as Secretary of Defense.
Regarding Petraeus, Moulton — who is an Iraq War veteran — stated that while he made a mistake regarding classified information and paid the price for it, he feels he would make a "fantastic Secretary of State."
Moulton then moved on to discussing Mattis, noting that the general was his commander during the invasion of Iraq. The Congressman, who serves on the Armed Services Committee, then remarked that Mattis would be a "good Secretary of Defense."
When asked by Blitzer if he would vote for the waiver that would allow Mattis to hold the position even though he's only been retired from the military for three years, he was a bit noncommittal, stating that there needs to be a debate regarding civilian control of the military. However, he said Congress would be impressed with Mattis's credentials.
Piggybacking on that train of thought, Moulton stated his belief that Trump was tricked by Mattis simply because of his nickname. (A nickname Mattis apparently dislikes.)
"I actually think Trump has been hoodwinked here," Moulton explained. "Trump selected General Mattis he has this nickname 'Mad Dog," thinks he's a tough guy general, when, in fact, he's incredibly thoughtful. He's a great moral leader. And he's the kind of check against a President Trump we need."
Moulton also said he did have concerns that Trump was relying too heavily on the military to fill out his administration.
Watch the clip above, via CNN.
[image via screengrab]
–
Follow Justin Baragona on Twitter: @justinbaragona
Have a tip we should know? tips@mediaite.com