DNC Accuses MSNBC of 'Double Standard' After Scarborough Speaks at GOP Fundraiser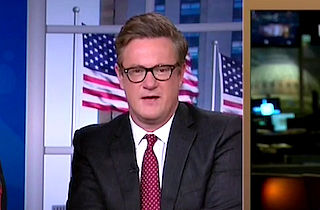 No, this is not Opposite Day (or maybe it is): the Democratic National Committee sent an open letter to the head of MSNBC, complaining about the network's "confusing" policies on whether their pundits can fundraise for political candidates.
In a letter passed on to the Huffington Post, DNC spokesman Mo Elleithee questioned why Phil Griffin, the president of MSNBC, would allow Joe Scarborough to speak at a GOP fundraising dinner in New Hampshire, while axing Ed Schultz's appearance at a Democratic fundraiser in Florida back in February.
"Now, I don't begrudge Joe from speaking at this event," he wrote. "But for the life of me, I couldn't figure out why he would be allowed to speak at a Republican event, but other MSNBC personalities were not allowed to speak at Democratic events. Seems like a pretty big double standard."
He went on:
It appears by MSNBC standards, a fundraising event is not a fundraising event if it does not call itself a fundraising event, even while raising funds at the event (through "nominal fees").

On the flip side, a fundraising event is a fundraising event when it raises funds and calls itself a fundraiser.

Now that the policy is clear, we will be sure to advise all Democratic state and local party organizations of this distinction, so that they can be sure to invite MSNBC personalities only to the "non-fundraising" events, as opposed to the "fundraising" events.
While Schultz cancelled his appearance at the Broward County Democrats Unity Dinner upon realizing it was a fundraising event, Scarborough was allowed to deliver the keynote address at the Cheshire County Republican Lincoln Day Dinner. Though it was originally described by the Huffington Post as a fundraising dinner, the organization said it would drop ticket prices from $50 to $25 to cover only the cost of the dinner itself.
[h/t HuffPost]
[Image via screencap]
>> Follow Tina Nguyen (@Tina_Nguyen) on Twitter
Have a tip we should know? tips@mediaite.com