DNC And RNC Reps Have Shouting Match Over Whether Romney Is A Lying 'Outsourcer'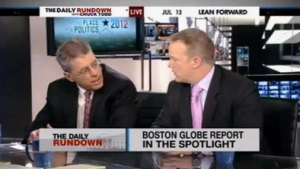 Filling in on Daily Rundown Friday morning, Luke Russert spoke with Democratic National Committee communications director Brad Woodhouse and his RNC counterpart Sean Spicer about reports that Mitt Romney lied about how long he remained at Bain Capital and whether is an "outsource of jobs," as he has accused President Obama of being.
"Where Mitt Romney was," argued Spicer, "this is a total distraction of an issue. This President needs to start talking about his record, his issues and what's going on in this economy."
"Sean had his say," said Woodhouse as Spicer attempted to talk over his attempts to respond. "A distraction? The Boston Globe reported this story. They did the report on the story."
"They're still wrong…" Spicer protested, as the two men continued to speak over one another.
"First of all," said Woodhouse, "Mitt Romney said before that same election commission in 2002, he said he repeatedly flew back to Massachusetts to attend board meetings… The fact checkers — I tell you why we're talking about it, we're talking about it because Mitt Romney is a serial outsourcer of jobs. You want to talk about outsourcing, let's talk about outsourcing. The Washington Post said every one of your charges against the President with respect to outsourcing was a lie. Every single one of them."
RELATED: Boston Globe Journalist Defends Report On Romney-Bain Capital Ties To Rachel Maddow
"No, no, actually, it didn't," Spicer responded. "It said that the claim of the RNC is actually true. This is the biggest issue of outsourcing that this administration doesn't want to talk about. Since this President has been in office, we have accumulated 5 trillion dollars of new debt. We have outsourced that to the Chinese to finance. They don't seem to have a problem with the Chinese buying all the bonds so they can continue to spend money, and when they want talk about bank accounts, let's talk about bank accounts. Let's talk about the bank accounts of the American worker who right now is trying to figure out how to make ends meet."
Woodhouse, it turns out, was keen to discuss bank accounts. "Can you tell me why Mitt Romney had a Swiss bank account?" he asked.
"No, I can't," said Spicer, matter-of-factly. "Why are we concerned about that instead of the bank accounts of the American people?"
Talk soon turned to the topic of Romney's tax returns, then to the matter of "transparency."
"Let's talk about transparency," said Spicer. "Why are you guys stalling on Fast & Furious? Why are you claiming executive privilege for the department of justice? You guys want to talk about every issue and distract except for Mitt Romney –"
"Let me tell you why this is important," said Woodhouse. "Let me tell you why this is important. Mitt Romney has said i should be president because of my private sector experience. But he doesn't want to talk about his private sector experience with respect to what does his tax return say about his private sector experience? What does the shell corporation in Bermuda say about his private sector experience?"
We then learned that the two men had a bet going. Find out who lost that bet and got to be royally embarrassed as a result, via MSNBC:
Have a tip we should know? tips@mediaite.com