Donald Rumsfeld: Unlike Past Leaks, These Seem 'Designed To Favor The Administration'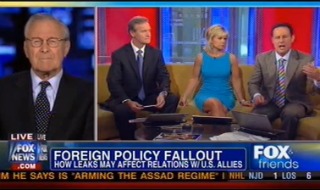 Former Defense Secretary Donald Rumsfeld made an appearance on Fox & Friends. Tuesday morning to promote his new book, Known and Unknown, hitting bookshelves today in paperback. Host Steve Doocy immediately launched into the topic of recent leaks, noting that The New York Times' front page "seems to have all of our biggest secrets."
"It is very serious," said Rumsfeld. "If you think of the task of the armed forces and the intelligence communities, it is to go out around the world and to try to develop relationships with others that provide information to our country so that we can defend the American people. To the extent the information that we seek is compromised and we damage those people who assist us or those countries that assist us, individuals, countries are going to be unwilling to cooperate with the United States and turn off the intelligence we have been getting and it will be a damaging thing to our country."
RELATED: A Furious Donald Rumsfeld Refuses To Answer Questions In Al Jazeera Interview: 'This Is Worthless'
When asked about Attorney General Eric Holder's appointment of two people from within the DOJ to look into the leaks, Rumsfeld responded that a special counsel is often used in cases such as this, partially because it lends the American people a sense of confidence, and "perception" is often just as important as reality.
As for the leaks, Rumsfeld shared that, as he sees it, "the individuals that are doing the leaking clearly have access to highly confidential, highly classified information. In the past I have seen it come out, it seems, at two or three layers down and it's a little garbled and a little long and serving some purpose for one department or the other. But in this case, it seems to all be of a kind and seems to be coming out of the White House and in a manner designed to favor the administration and to support them."
Talk then turned to Rumsfeld's recent full-body pat down at the airport.
Have a look at what he had to say about it, via Fox News:
Have a tip we should know? tips@mediaite.com