Donald Trump Introduces "Sexual" To The Carrie Prejean-Larry King Interview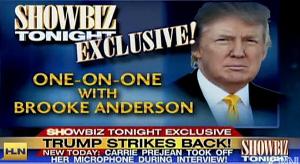 Carrie Prejean + Donald Trump = publicity-hungry awkwardness. Trump weighed in on the Prejean-Larry King interview and near-walk-off last night on HLN's Showbiz Tonight.
Guess what – he made it sexual.
The key phrase from the interview – "Larry, you're being inappropriate" – was interpreted a slightly different way by Trump:
Inappropriate is more of a sexual term, as far as I'm concerned. I mean, inappropriate? He asked a very, very easy question and I was surprised that she just didn't say, 'Hey, listen, I can't answer that question.' Instead she wants to walk off the stage? It was very surprising. It was really very strange to watch it.
A little creepy, but let's move on. In Prejean's book she takes one swipe at Trump, saying he personally picks the women he finds the most attractive to advance the Miss America competition. Trump denied in, but added, "I happen to have very good taste when it comes to beauty and I do pick people."
As for the future of Prejean, Trump said, "I think Carrie really needs a little bit of guidance." Sounds like an understatement.
Also, is this sort of interview the norm for Showbiz Tonight, HLN's 11pmET entertainment show? Brooke Anderson's baiting questioning is worse than an Access Hollywood interview. The amount of "exclusive" mentions, both on-air and in the lower third neared double digits. Say what you want about CNN and their news focus, but HLN gets very non-news by the end of prime time…
Here's the full "exclusive" interview:


—–
» Follow Steve Krakauer on Twitter
Have a tip we should know? tips@mediaite.com