Fake Lindsay Lohan Rep Apparently Tricks Letterman Into Booking Her (UPDATE)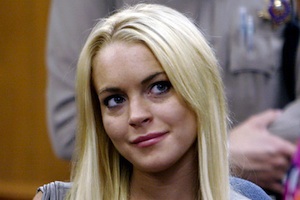 Yesterday, many eagerly reacted to the news that Lindsay Lohan would be appearing via satellite on the Late Show with David Letterman. Not only would it be Lohan's first non-court house appearance in a long while, it would be on a show whose host had taken more than one occasion to get some laughs at her expense. However, today, CBS issued a statement saying that they had been duped and that Lohan would not be appearing on the show.
Here's the statement from CBS:
"Lindsay Lohan will not be delivering a Top Ten list on Thursday's Late Show with David Letterman, as had been previously announced. We made a mistake. Someone purporting to be a friend of Lindsay's reached out to the show yesterday, allegedly on her behalf, and booked her to appear. Clearly, this person was not authorized to make commitments on her behalf. We wish Lindsay well, and look forward to having her on the show in the future."
Of course, the question now is, how did this happen? Many TV critics and writers are wondering how exactly the Late Show, a show that's been on the air since 1993, could get tricked this publicly? Could there be more than meets the eye in this story?
Either way, if this really was just some prank, I wouldn't be surprised if it leads to an actual Lohan appearance on the show. And, then, she and Dave will have plenty more to talk about than just potential jail time.
UPDATE: Yeah, those guesses about the Late Show being way too experienced to fall for a prank were right. This is just another chapter in the sad, sad story of the Lohan family as Lindsay's dad Michael Lohan has claimed he was the one who set it up and that it was her representation that canceled the appearance.
From TMZ:
"Michael says Lindsay 'knew full well' about the booking … they even discussed transportation from the L.A. studio, where Lindsay would be doing the bit via satellite.

Michael insists everything was going smoothly — until Lindsay's reps got wind of the appearance and shut it down.

Now, Michael tells us he's pissed — adding, 'Anything positive that I bring into her life … [her people] try to nix it.'"
I'm sure there will be another wrinkle to this story soon as Lohan's people hit back but I'm also sure it will be so depressing that we'll probably choose to ignore it.
Have a tip we should know? tips@mediaite.com