Former Reagan Official: If Law Fails, Julian Assange Will Be Assassinated By The CIA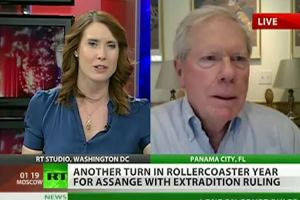 Paul Craig Roberts, the former Assistant Secretary of the Treasury for the Reagan Administration and an outspoken journalist and author since, appeared on RT America this past weekend to discuss the legal struggles of Wikileaks founder Julian Assange. While there, he had some pretty unsettling things to say, casually dropping his belief that the CIA would kill Assange and that this would be a "common practice" event.
Here's the most inflammatory section:
"[Assange] is very much a threat. Not just to the American government but the British government and any number of governments. And so, there is a concerted effort to nail him, to shut him up. In my opinion, if the legal attempt, which I'm sure the United States government is behind, if this fails, he'll simply be assassinated by a CIA assassination team. It's common practice for the CIA to do that. It's nothing unusual about it. The Congress had many hearings in the mid-70s and it's in the public record that they're always assassinating people."
He went on to call into question the sexual charges against Assange, saying the case was another "common practice" tactic of the CIA to slander someone they find dangerous by painting him as a racist.
Roberts is no stranger to controversial comments. He vocally called for George W. Bush's impeachment and has said the 9/11 Commission Report is "false" and part of a "cover-up."
(h/t Reddit)
Check out the clip from RT America below:
Have a tip we should know? tips@mediaite.com