Fox and Friends On Wall St. Protests: 'Occupy' Also Means 'Conquer, Seize And Capture!'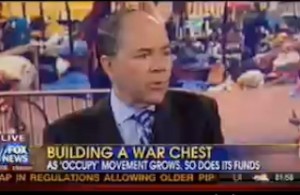 The creative minds behind Fox and Friends still seem somewhat vexed by the mission of Occupy Wall Street, at least judging by the back-and-forth between co-host Steve Doocy and Fox News legal analyst Peter Johnson, Jr. This morning, Johnson pointed out that the term "occupy" means "conquer, colonize, seize, capture, take, take over." Scary terms to be sure, especially for viewers of the morning show who still haven't heard the mission behind the protest,or who lack a dictionary.
F&F first aired a clip from Monday night, in which Conan O'Brien relayed that Occupy Wall Street had raised $300k in donations, "which means they now have to protest themselves." That not-that-funny-joke was actually taken somewhat seriously by the FNC show, who went on to ridicule the notion that someone affiliated with OWS spoke about "monetizing" the movement.
There are a few salient points worth mentioning here. Much like the Tea Party movement at its most nascent stage, there is no unifying doctrine that all protesters unilaterally agree upon. So while there were plenty of goofballs, and yes, occasional racists, that showed up at the Tea Party events, it wasn't fair to broadly label an entire movement based on the uninformed, and at times intolerant, commentary of a few.
Secondly, and perhaps more importantly, the Occupy Wall Street movement is not wholly opposed to capitalism, or a free market system. The thrust of the protests are focused on the plutocracy in which we now find ourselves, as evidenced by record wealth inequality. Put another way, all those tax breaks for corporations that were meant to lead to new jobs have actually led to record wealth, record corporate profits, oh, and record unemployment. Oops.
According to the dictionary, "occupy" also means "To fill up (time or space)," something that the Occupy Wall Streeters, at least under our constitution, have every right to do.
Watch the brief segment below, courtesy of Fox News:
Have a tip we should know? tips@mediaite.com